Remodeling a living room can be fun and exciting, but it can also be somewhat daunting. Deciding how to arrange the furniture can feel like a limitless puzzle of chairs, sofas, coffee tables, side tables, and more.
Since a living room is where most of the action happens in the home, the key to achieving a functional room layout is knowing what best serves the space and your lifestyle. We've all been there before, standing in the middle of an empty room, trying to figure out how to best place the furniture.
Our interior design team at Albarado's Fine Furnishings can assist with living room layout ideas to help you begin mapping out your successful living room remodel at no cost! Let's take a look at some of the most popular living room layout ideas below!
9 Living Room Layout Ideas
Traditional living room
To create a more traditional living room gathering space that encourages conversation, place twin sofas opposite each other, an area rug, and two casual chairs to provide extra seating.
Mixed seating options
For a living room with an eclectic mix of seating options, place the main sofa on the blank wall opposite the windows and loosely assemble chairs throughout the room or surround a large central coffee table anchored by a patterned area rug and side tables on each end of the sofa.
Living room with a home office
You can create separate areas for relaxing and another for working by positioning the couch away from the desk and the desk facing away from the living room.
Modern theme
To create its own boundaries, add a large sectional sofa and a chair facing a fireplace that dominates the wall for a modern, clean, and inviting atmosphere.
Floating space
For a living room that lacks a solid wall to anchor the furniture, create a seating area in the center of the space anchored by an area rug.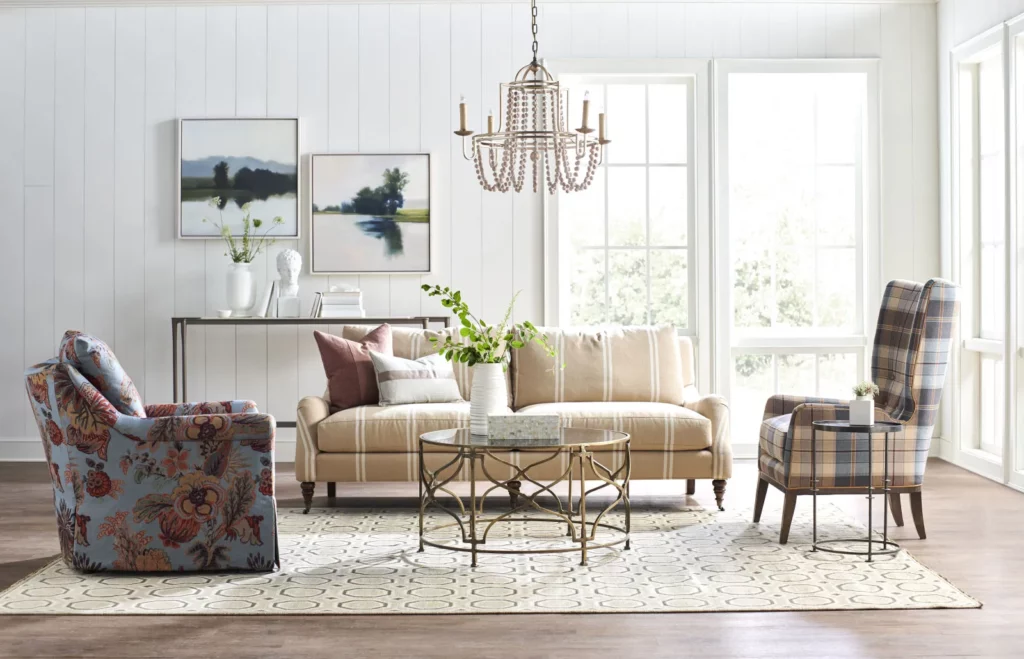 Simple room
A stylish room does not need to be complicated. Sticking with the basic couch, coffee table, lamp, and one to two accent chairs can make a living room look spacious, warm, and inviting.
Off-centered room
To help define a space that is off-centered, create a comfortable seating space by placing a corner sectional sofa at the far end of the living room that faces away from the windows into the main room.  You can also add a pair of side-by-side armchairs closer to the fireplace to help keep the room light and airy.
Open room space
A spacious living room does not need to always be filled with extra furniture if a large couch and a couple of floating coffee tables are all your family needs. Positioning the couch away from the wall and utilizing shelving will leave the rest of the room open and uncluttered.
Sofa and daybed
For a sleek, low-profile atmosphere, add a daybed in place of a second sofa or a pair of armchairs. This also allows for a place to take an afternoon nap or morning meditations.
A living room serves as a catch-all for a myriad of functions and events. It is typically the most used space in the home, so it does deserve your attention. But if your living space has issues, then it might be time for a living room remodel.
Planning for a room makeover takes plenty of forethought, knowledge, and information, especially if you decide to make structural changes.
Take advantage of our complimentary design services to find the perfect living room layout and make your remodel less stressful. We can help you embrace imperfection and discuss a variety of design options to mix things up.
4 Top Living Room Remodeling Tips to Know
Identify what your needs are for your living room space, such as are you an avid entertainer, or do you prefer family TV time and activities.
Assess the space's layout to help decide on what design suits you – an open floor plan, conversationalist, or walk-through.
Decide the focal point for the living room space, be it the fireplace, couch, or even artwork.
Nail down the essentials, such as sofas and chairs, tables, and a spot for the TV.
There is a multitude of functions a living room must fulfill. It is where you relax, play games, entertain, and socialize with family and guests. You and your family may also use it for doing homework, eating, and watching television.
Looking to re-decorate instead? Read our blog on living room decorating tips for an unforgettable and more inviting space.
A living room remodel does not necessarily have to be a major overhaul. Sometimes a minor facelift, such as purchasing sofas and chairs, might just be the thing that is needed.
If you are looking for a local furniture store nearest you in Lafayette, LA, that has what you will need to complete your living room remodel, Albarado's Fine Furnishings is the place. We offer an assortment of sofas and chairs from a wide variety of brands, colors, and styles, plus accessories that will fit into any interior decor.
Let Albarado's Fine Furnishings be your personal stylist so you can indulge in luxury and achieve your perfect space.
Source:
https://www.thespruce.com/timeless-living-room-layout-ideas-5194550