We spend around one-third of our lives sleeping, and making sure we have the appropriate setup for a comfortable sleep should start with finding the perfect mattress to sleep on. So, choosing the right-sized mattress for your room is an important decision. There are a number of factors to consider, but the size of your mattress should mainly be based on the size of your room, your sleeping habits, and the number of people, kids, and pets who will be sleeping or will be jumping in for a cuddle in the bed. Let's take a closer look at each of these!
Consider the Size of Your Bedroom
When looking into how to choose a mattress size, it is important to consider the size of your room and also to keep a minimum space around your bed, so that there is enough room to be able to move, open and close doors, closets or drawers without hitting an obstacle, to maneuver plug sockets and freestanding lamps, and to have the additional furniture and the decorations you want in your bedroom.
First, you will need to calculate the bedroom size, then the space occupied by the rest of the furniture. Also, keep in mind the minimum space you need around the bed in order to not feel cramped, which should be at least two feet of walking space around it. Below is a list of mattress size options and their recommended room sizes.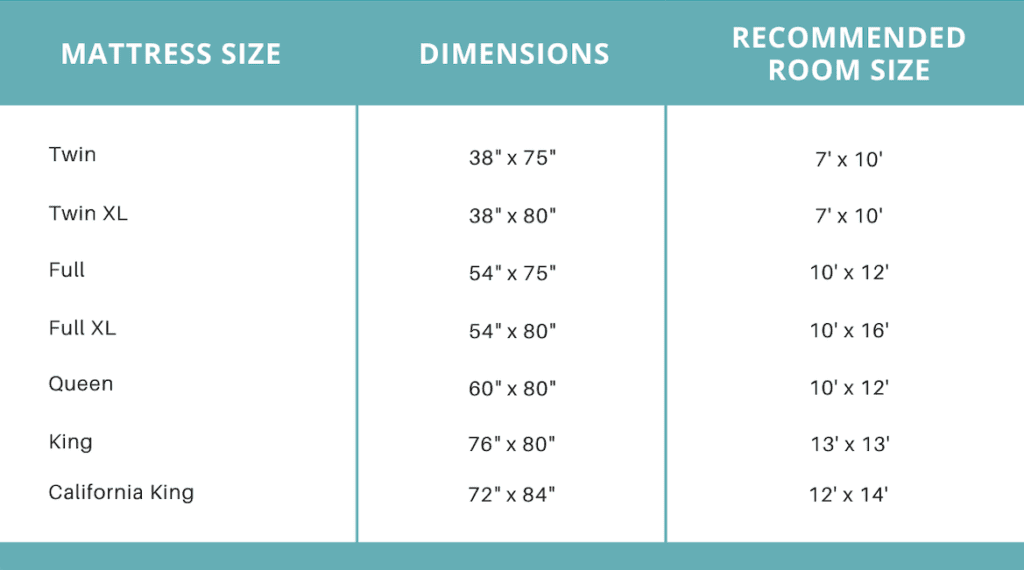 Sleeping Habits 
Your sleeping habits should also be taken into account when deciding on the size of your mattress. Are you sleeping alone? Are you sharing the bed with someone else? According to the New York Times, a full-size mattress that measures 53 by 75 inches is enough for a single sleeper.
If you know you will have more than one person in the bed, it is recommended to choose a bigger mattress in order to ensure all parties are comfortable. Your usual sleeping position (and your partner's) is also something you need to consider. Do you prefer to curl up? Also, consider whether you or your partner are a restless sleeper, and if so, make sure you will have enough room keeping this in mind, so you can sleep comfortably.
The Number of People
Finally, the number of people who will be sleeping in the bed should be taken into consideration. A queen or king-size mattress would be best if you are a couple. If you have kids or pets who love to jump in and cuddle on Sunday mornings, a king-size mattress would be the best option. In addition, if you are a single sleeper, a twin or full-size mattress would be best.
Making the Most of Your Bedroom Space 
When choosing your mattress, you might want to consider a few tips for saving space in your bedroom and taking advantage of all space available:
Choose a bed with built-in storage. You can select beds that lift up or have storage drawers, giving you additional pace inside and under the bed.
Switch to sliding doors. You can save the space needed for swinging open the doors by having sliding or pocket doors for your bedroom, closets, bathroom, and other doors.
Rather than using the floor space, use the height of the room. You can create more storage space and reduce clutter by using taller furniture and shelves on the walls.
Consider hideaway beds. You can save extra space by choosing beds with built-in storage and picking a wall bed or a foldaway bed that can be hidden away when you're not sleeping, saving lots of space in your room.
Be mindful of the furniture you select. Mounted end tables, headboards with side shelves, and floating shelves are a great way to save space.
In conclusion, when deciding on the size of your mattress, it is important to consider first the size of your room, your sleeping habits, and the number of people who will be sleeping in the bed. If you need help finding the perfect mattress, contact us at Albarado's Fine Furnishings, your home furniture store in Lafayette, LA. We have a great selection of mattresses to choose from, as well as other bedroom furniture pieces and accessories to make your dream bedroom a reality!