Moving into a new home or an apartment can be a very liberating new chapter in your life. Turning a new space into a home can be fun and exciting, whether you are a minimalist or a maximalist.
Once you decide on a budget and set your priorities, the key to finding the right furnishings is to follow your instincts. This is your taste and the home you will live in. You could also contact your local furniture store in Lafayette, LA, such as Albarado's Fine Furnishings, to help ease some of the stress that may come with turning your empty house into an inviting home.
Tips for Furnishing Your New Home
Consolidate
To set your furnishing budget, it is important to decide the furniture you want to keep and the fresh pieces you will need to purchase. A new home is a perfect time to purge the pieces that are worn out, barely used, or do not fit your personal style anymore.
Get your rooms ready beforehand
A good rule of thumb is to decide on what changes in the rooms you would like to make before bringing in new furnishings, such as removing or replacing the carpet, retiling, installing fans, painting the walls and ceilings, etc. This will help you determine what you can do yourself and what will require a professional.
Main rooms come first
Always begin with the rooms you will spend most of your time in, such as bedrooms and the living room. As these rooms, especially bedrooms, would be your safe haven, you should prioritize them when assessing your current inventory and deciding what furniture is worth spending extra money on.
Make the most of accessories and colors
Laying out accessories that you already have, such as artwork, books, candles, and photographs will help you sort through and pick out what goes together. You can tie these items together through the use of color. Once all of them are in place, you can then begin to purchase other accessories that resonate with the color scheme of your new space to complement the existing ones.
Space out big-ticket purchases
Now that you have your furniture and décor in place, you can consider buying your investment pieces such as the couch, dining table, home entertainment center, and beds. You can browse through high-quality home furniture brands that we carry or speak with our team so that we can help you find what you need.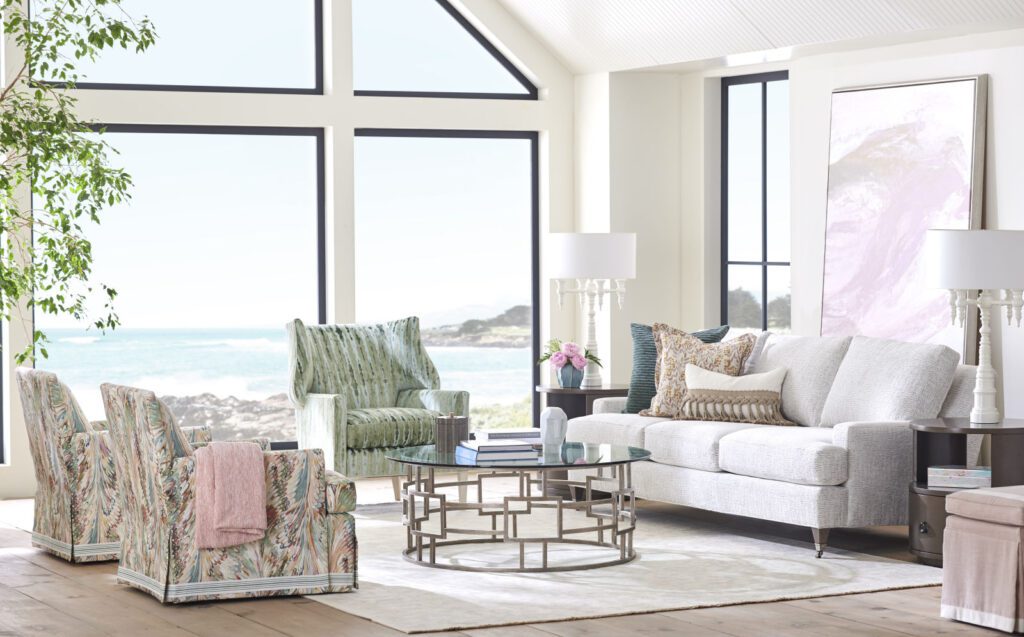 When furnishing a new home, you should always start with a budget that is divided between move-in preparation, painting, major splurges, accessories, and organizational pieces. This will help you to stay on target and make things flow easier. But, if you want to ensure you do not have to cut corners in the process, you can consider a personal loan. Prepping and furnishing a new home can seem daunting, but paying for it does not have to be.
Albarado's Fine Furnishings is the go-to furniture store in Lafayette, LA, for all your home furnishings and accessories needs. We also offer dependable delivery and installation services to help take the stress out of getting your furniture safely to your new home. Read our previous blog on why you would need a furniture delivery service!
Once you have purchased furniture from us, you can expect it to be delivered and set up by professionals within a reasonable amount of time. This will allow you to focus on other tasks at hand in the home. Check out the video below to learn more about our exceptional delivery service and installation!
We are running our Get Lucky campaign through the month of March! To participate, just stop by our showroom at 205 Winchester Drive and scan the QR code to receive a virtual scratch-off ticket that will reveal your percentage off your one-item purchase.
March is the perfect month for new homeowners to shop for home furnishings. So, if you are feeling lucky, just stop by today! We are open 9:30 AM-5:30 PM Mondays – Fridays and 10:00 AM – 4:30 PM on Saturdays.
To learn more about the variety of brands we carry, visit our Brands page and call us to schedule an appointment with one of our friendly, highly-qualified team members.
Let Albarado's Fine Furnishings help make your house the home of your dreams.