The idea of a space designated for eating that is separate from the gathering area or place where the food is prepared is not new. This concept dates back to the ancient Greeks, though women were not allowed, and there was likely very little styling effort involved!
Today, dining rooms across the country offer a wide variety of styles and decor as well as functionality, and all guests are allowed! However, as the times change, so do the styles for this type of space. If you are looking to upgrade your dining space with modern dining room ideas, take inspiration from some or all of the following trends.
5 Modern Dining Room Decorating Ideas
New Paint
Adding new paint to your dining room can be a great way to add color and texture. If your dining space hasn't been updated in a while, it's time to get creative!
Use bright colors such as white or yellows to bring in the illusion of more light and openness, as well as a coziness that radiates throughout your home. You can also choose darker, cooler colors to create the illusion of a bigger space with a sleek and high-end look.
Statement Rugs
The dining room may not be the first place you would think to put a statement run or carpet piece. However, you will be surprised that you can make this rug into a stylish centerpiece for your room!
Pick a statement rug that does not clash with your living area but one that brings uniqueness into your space. Use modern styles and patterns, such as a geometric motif or another bold print, to be the talk of your next gathering!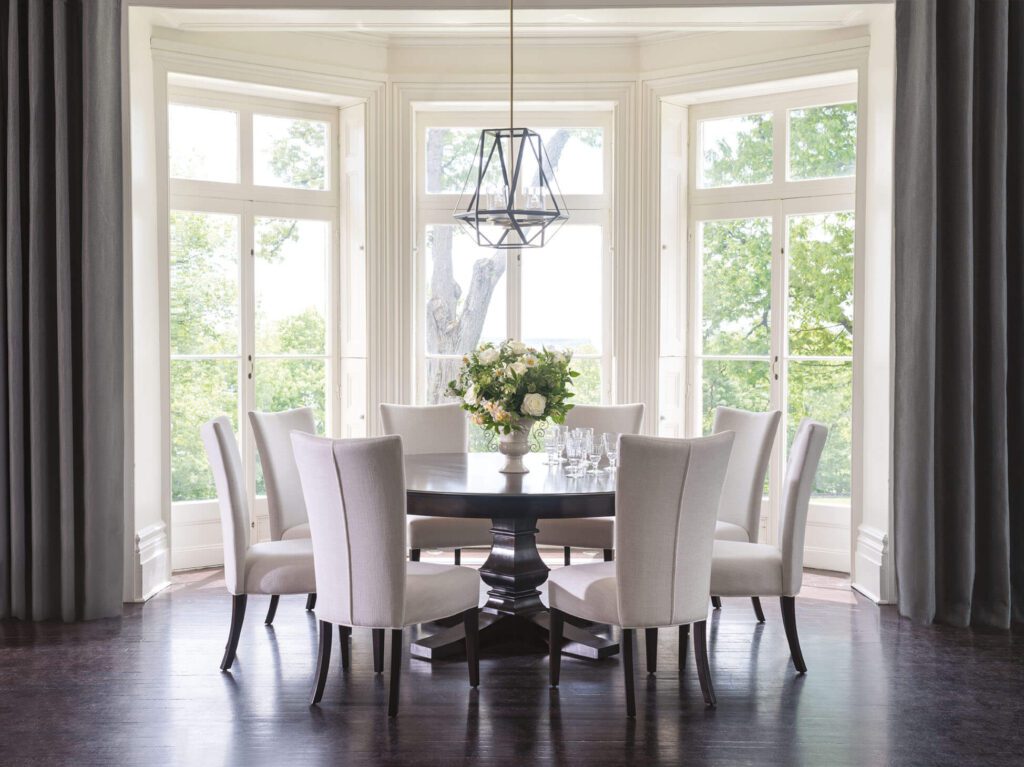 Elevated Lighting Options
Adding or changing your lighting structure with modern dining room ideas can add an extra dimension to your dining space. Adding more natural light with windows can bring in warmth and open-air without adding to your electric bill.
Alternatively, adding a sophisticated lighting structure, such as a chandelier or other hanging light, can bring elegance and bold features without creating bulkiness to the surrounding floor space. In addition to the functionality of lighting, the ambiance that lighting can bring can add value to your home as a whole and bring intrigue into a space that can easily be overlooked.
Accent Wall/Statement Wall Color
One single accent wall or statement wall piece is perfect for any room in your home, especially for your dining space. These walls are designed with a variety of colors and possible patterns that can complement any decor style.
You can also use a free wall to add accent decor or even pictures to liven up a previously dull space. Since your dining space is most likely used when entertaining others, use this chance to upgrade that area with boldness that can spark intrigue and conversation.
Don't be limited to a specific color or design–branch out and be as unique as you want by finding antique or creative pieces at garage sales, estate sales, or flea markets on a budget!
Liquor Cart/Coffee Bar
When entertaining guests in your dining space, clutter can be an unsightly mood-killer. Take inspiration from other modern dining rooms by installing or building a liquor cart or coffee bar into that space to easily serve guests their beverage of choice.
This fixture can hold all of your coffee machinery, fixings, and serving utensils and dishware. This will quickly become the conversational piece of your dining area and make you the talk of the block!
When upgrading your dining area, don't think a complete overhaul is absolutely necessary. Making small but bold changes can make all of the difference to your space, bringing a different mood and ambiance into your home and dining room. There are several places to find inspiration for such, but no place better than your local furniture stores here in Lafayette, LA!
Whether you are looking for a statement furniture/decor piece or even hunting for some modern dining room ideas in general, Albarado's Fine Furnishings is a great one-stop shop for all the inspiration and products that you could ever need!
Stop by today and speak to one of Albarado's knowledgeable sales team members who can help you find the pieces you need!