A good time to winterize your outdoor furniture is when the fall season is ending.
Although the winter season in Lafayette does not get as cold as the northern part of the country, the freezing temperatures can still wreak havoc on your outdoor tables and chairs.
To prevent winter conditions from damaging your outdoor furniture, it is important to start prepping now so that your furniture stays in good shape when the warmer weather returns.
Protecting your outdoor furniture can save you money especially since it is an expensive investment. Since the cold weather or harsh elements, such as ice and the cold rain, during the winter months can cause irreversible damage in one night, you will not regret taking the time to winterize your outdoor furniture.
Proper care for the furniture will help it to last longer and for more seasons to come. Even though some materials can handle winter weather such as teak and aluminum, winterizing your outdoor furniture can help to extend its life expectancy and therefore your wallet.
6 Steps to Winterize Outdoor Furniture
Remove cushion and pillow covers and toss them in the washing machine. If the covers are non-removable, simply scrub with a cleaning solution and rinse using a garden hose. Make sure they are thoroughly dry before storing.
Scrub the furniture with a soft brush and soapy water to remove the dirt and other debris. You can use mild dish soap for wicker, plastic, or iron furniture and a furniture cleaner for wood.
Dry off the furniture with a clean towel and then let it air dry. Covering or storing the furniture while it is still damp can mold or rust the pieces.
Depending on what your outdoor furniture is made of will determine what protective coating should be applied when appropriate, such as a sealant on wood furniture.
If you have extra space inside the house or the garage, it's best to store your furniture indoors. But if you don't, you can still protect it by using furniture covers. Coverings can protect against winter weather conditions, UV rays, and dust. Some outdoor furniture covers often have straps to secure the cover in place. It also offers ventilation to prevent moisture buildup even if the furniture is stored indoors.
If you choose to leave the furniture outdoors, make sure to place them in a protected spot that will shield the furniture from dangerous weather conditions.
How to Choose Outdoor Furniture Covers
Look for furniture covers that are durable, waterproof, and fade-resistant with sloped angles so that elements such as ice and leaves can easily slide off.
Purchase covers that have dry vents to keep the water out and prevent mold and mildew. Also, you would want covers that are easy to put on and take off such as ones that come with handles on the side.
Select snug covers with good buckles and straps to help secure and prevent dirt and moisture.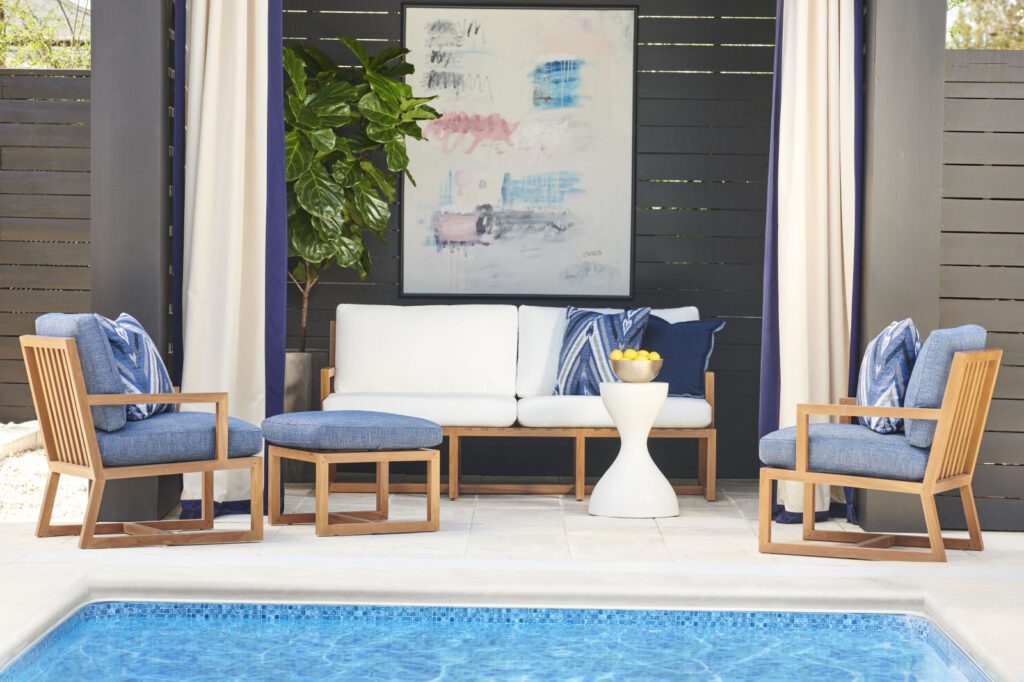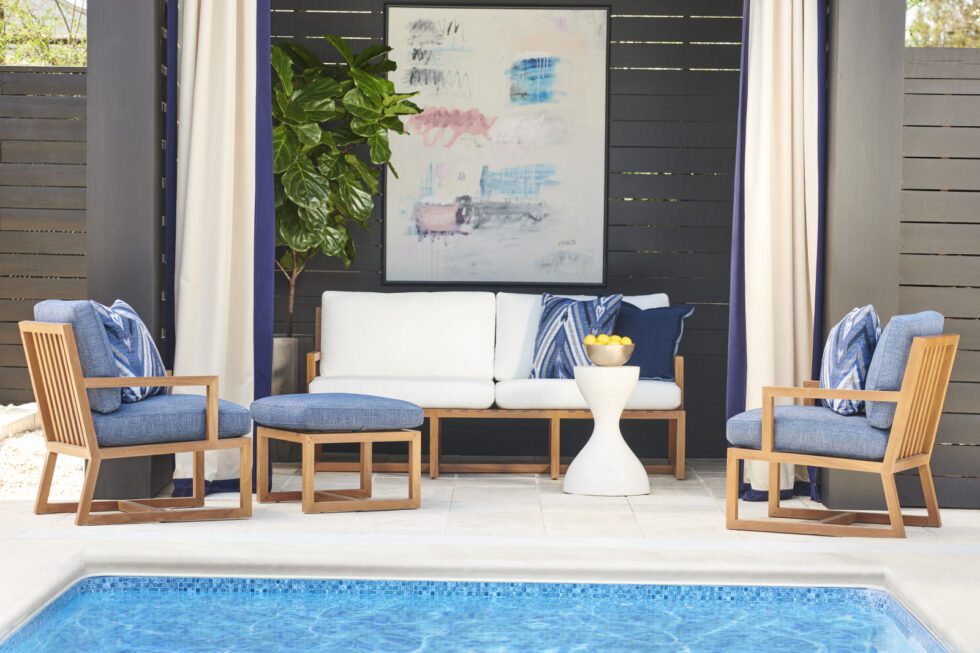 Storing all types of patio furniture indoors during winter months is ideal, yet some materials can handle cold weather. But if you must leave furniture outside and there still manages to be some damage to certain pieces upon spring, rest assured there are simple fixes you can take to restore certain materials.
Teak. Use a specific cleaner recommended by the manufacturer to restore color that has faded. Afterward, apply teak oil to help keep the grain from cracking. This also gives the material an attractive sheen.
Wrought iron. Gently buff away rust on the furniture with a brush. For other stains that appear, repeat the cleaning process to restore the furniture for the new season.
Synthetic wicker. Spray down the furniture and then use a sponge with non-bleach detergent or mild soap, and a bucket of warm water to wipe down each piece. For sticky messes, try Goo-Gone or a similar grime-eliminating product on the furniture.
Your outdoor furniture is as much of an investment as what is inside your home, so it is just as important to protect your pieces properly to avoid unnecessary damage. You can still ensure that your furniture will be ready to be used in the spring if you start now.
If you need new outdoor furniture, Albarado's Fine Furnishings is the furniture shop near you in Lafayette, LA, to stop by and visit today. We offer a wide variety of furniture brands, styles, and colors that will fit in any room of your home.
We sell beautiful furniture for beautiful people like you and will go the extra mile to keep our customers satisfied. Let Albarado's be your furniture destination to make your house a home.
Source:
https://www.bhg.com/how-to-store-outdoor-furniture-winter-6749513