There is a dizzying array of options out there when it comes to buying furniture for your home. With so many choices for manufacturers and furniture brands, it may seem overwhelming to know where to start when selecting high-quality and tasteful furniture. To make the process a little more manageable, we would like to introduce you to Canadel Furniture.
5 Reasons to Choose Canadel Furniture
Canadel is a Well-Established Company
Canadel started off as a small family business in 1982 when two sons joined with their father to start making quality and custom-tailored furniture. Over the past 40 years, the company has grown and expanded to sell furniture all over Canada and the United States.
This growth is largely due to their reputation for providing well-made furniture that is both durable and attractive. It is estimated that Canadel makes about 1,150 chairs and 200 tables every day! The company is still run by members of the family, who take pride in offering a product that will last your family for generations.
Canadel's Environmentally Friendly Business Practices
Not only does Canadel adhere to the highest quality standards in the furniture manufacturing industry, they also hold themselves accountable for the protection of the environment and natural resources. They source their wood locally from Canadian forests to ensure quality and to cut down on emissions and expenses associated with transport. Canadel recycles dyes, paints, and solvents used in their manufacturing process. Their packaging materials are made of recycled fibers as well.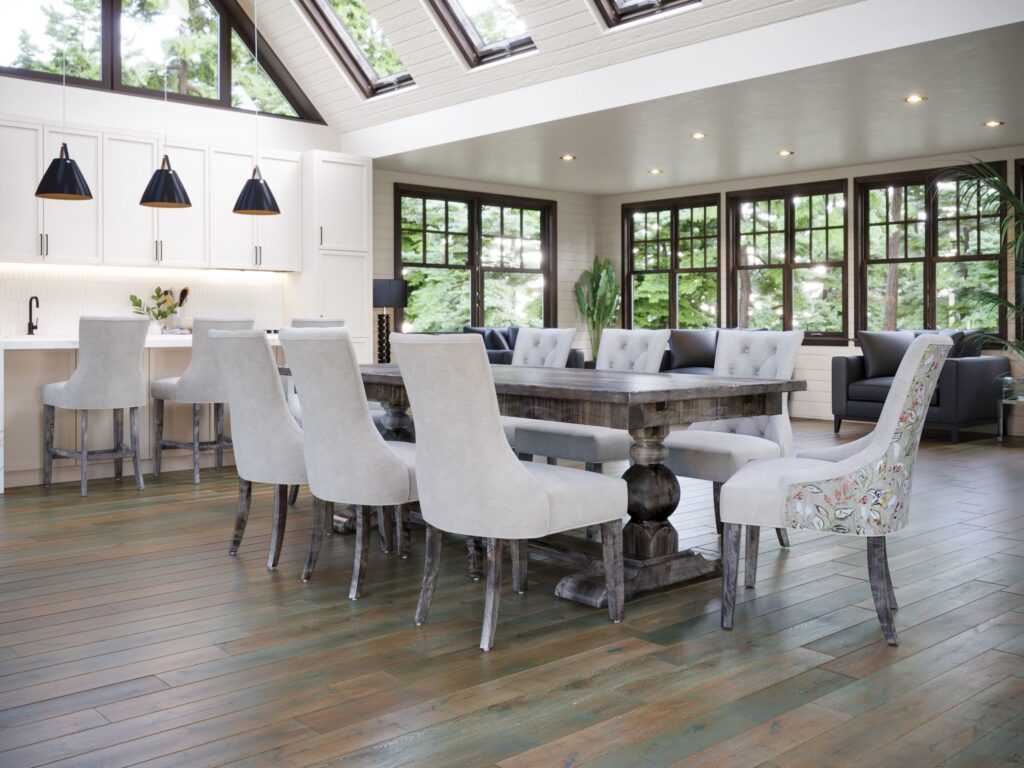 Commitment to Quality Materials
It is an unfortunate truth that a great deal of the furniture being sold these days is made with inferior materials in order to cut costs. Particle boards and low-quality wood do make for cheaper furniture, but these pieces lack the durability and structural integrity to stand up to regular usage. Cheaply made furniture is highly susceptible to water damage, cracking, and peeling apart.
Canadel Furniture, on the other hand, is made of the finest quality solid woods. Most of their furniture is made of birch sourced from North American forests. All of their products are made in North America by skilled craftsmen who take pride in their work. Each piece is assembled and finished by hand, so you can be confident that it will be free of defects or irregularities.
Vast Selection
Although they are best known for their dining room sets, Canadel creates chairs, tables, benches, stools, and much more, suitable for any room in the house. When you factor in the different possibilities made available through customization, you have more than 9 million options! From traditional and timeless to modern and elegant, you are sure to find a piece or set that suits your personal style and the feel of your home just right.
Customizable Sets
One of the great things about the Canadel furniture business model is that their furniture is customizable. The customer is able to select from many different options of upholstery colors, wood finish, size, style of legs, and so on.
You can create a custom-tailored table, chair, or full dining room set to your own specifications. Why settle for the limited options and ho-hum quality of big box stores when you can have something perfect?
To find Canadel furniture near you in Lafayette, LA, come in to Albarado's Fine Furnishings at 205 Winchester Dr, Lafayette, LA 70506. We are the only authorized Canadel retailer in the area.
What's more, we are also hosting a Canadel Custom Dining Sale all month long this November, just in time to get your home tastefully furnished and comfortable for the holidays. Come in today to find the piece or set of furniture that will elevate your home's ambiance to a new level.