Crispy leaves and cooler temperatures are flooded with stunning color palettes of burnt oranges, olive greens, and deep reds. This signals the start of bringing fall decor ideas to life inside and outside of a home. The first day of Fall, also known as Autumn, is just around the corner. It is the time of year when people get excited about bringing fall vibes into their homes to welcome the change of season.
There are so many tasteful and fun ways to decorate for fall. From pumpkins, gourds, and wreaths to plaids, tartan, and foraged materials, you are sure to find the inspiration you need to start preparing the home for the holiday season.
2022 Fall Decorating Ideas
Pumpkins
A great way to add color and layers to your fall decor is by adding pumpkins. They can be carved, painted, or left natural to be displayed anywhere inside and outside the home. Pumpkins can transform any home into an autumn paradise.
Earth tones
Warmer shades such as terracotta, rust, and similar neutrals complement almost every other color palette making it easy to work with different decorating styles. Earth tones tend to add more of a cozier feel to a home.
Layered textures
Adding a variety of different textures such as faux fur, leather, velvet, and linen can elevate a room since they mix well with other fabrics. Textured fabrics bring a timeless quality to a space that can continue to resonate through fall and beyond.
Fall foliage
Mixing real or faux fall foliage will make any room of a home feel instantly comfortable and cozy. When bringing the outdoor elements indoors, the presence of fall will fill the air.
Wood
Elements such as wood create a calming and grounding effect for fall and can easily be incorporated with coffee tables, chairs, flooring, stools, accessories, and more.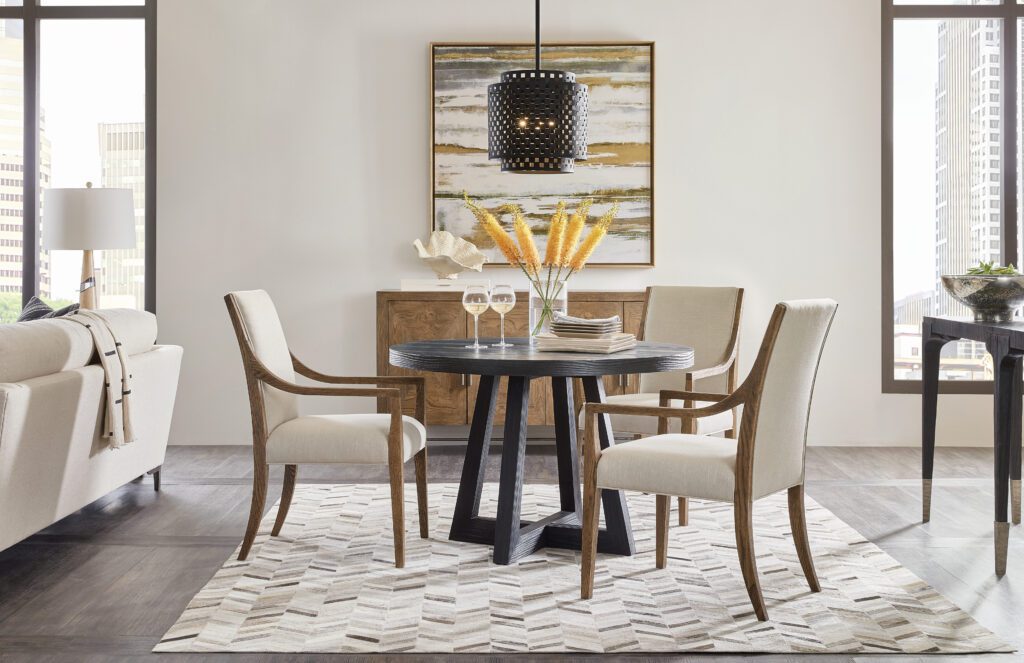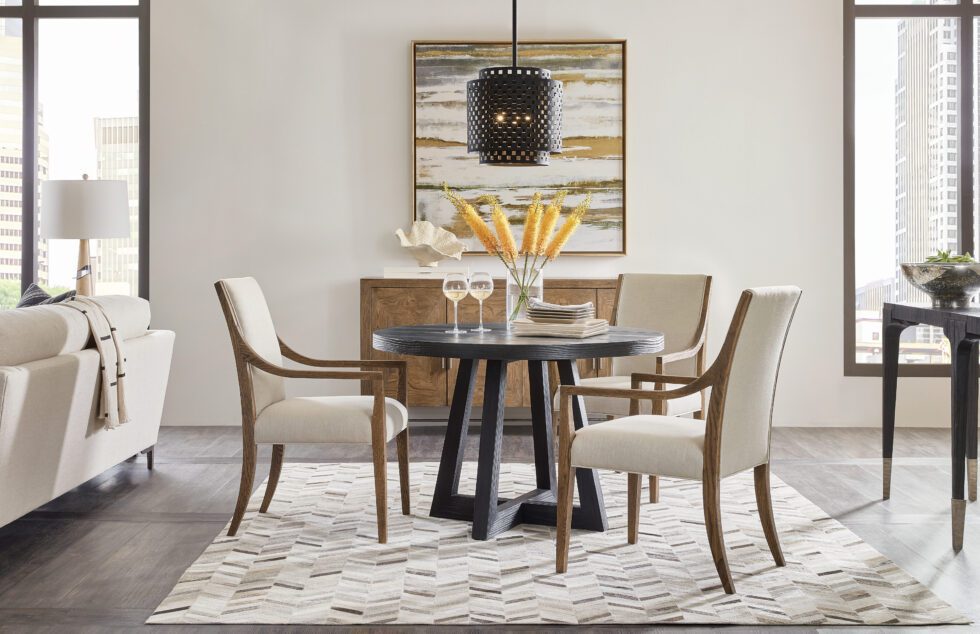 Copper accessories
Vintage copper pieces will add a layer of elegance, and warm hue that speaks autumn is here. From vases to pots, copper can be displayed lovely in many ways and in any space of the house.
Woven elements
Wicker baskets, natural fiber rugs, rattan furniture, and woven pendant lights all add visual interest and softness to a space. They can blend effortlessly into any home decor.
Plaids
Adding plaids to a space such as a throw or a decorative pillow to a couch or bed is a great way to bring fall into a room. Plaids can be kept dry and clean, or you can go as crazy as you would like, depending on your taste for color. Tweeds also give off the same effect.
Vintage and modern
Mixing beautiful antique furniture pieces can make a modern space feel collected and unique. Adding vintage rugs, textiles, art, and decorative accents will bring a touch of visual interest to any space. Click here for ways to mix your vintage furniture with modern home furnishings.
The mantle
To make your living room feel extra cozy, decorate the mantel with items such as fall foliage, garland, candles, and even a wreath. As the days get shorter and chillier, the living room will become the key focus of any home.
Front porch
You can warm up the front porch simply by painting the door a pastel color that will complement the fall season. Also, hang a fall wreath on the door and add large planters filled with colorful plants that will make your front porch feel fall ready without totally clashing.
As the seasons change, your decor can subtly shift too. With the arrival of fall and Thanksgiving soon to be upon us, you still have time to create a festive fall-style home. Whether you choose unique accessories or polished centerpieces, fall decorating is all about adding warmth and comfort while still showing off your personal style.
Decorating your home in a way that makes you happy and comfortable should always be the goal, regardless of what is trending. To get into full fall decorating mode, stop by Albarado's Fine Furnishings today. Our interior design services can give you fresh, up-to-date fall decor and designer tips that are sure to help transition your home into the coming autumn season. You can also reach out to us by calling 337-981-4222.
With each new year comes an opportunity to rethink your home decor. Albarado's Fine Furnishings can give you a different perspective on decorating that you may appreciate while making sure your decor still resonates with your own design style. At Albarado's, you will always find something to love that will fit perfectly in your home. Albarado's is the local furniture store for all your home furnishing needs in the Acadiana area.
Sources:
https://www.bhg.com/decorating/seasonal/fall/easy-decorating-with-pumpkins/
https://www.elledecor.com/design-decorate/room-ideas/g3510/warm-room-design/