Do you and your partner struggle to find a compromise when it comes to the furnishing and décor of your shared space or do you love more than one style yourself? Albarado's Fine Furnishing offers a wide variety of unique home furnishings for a stress-free experience in combining opposite style choices.
A trending collaboration of styles is mixing modern furniture with vintage looks. Now you might question,"How can I mix vintage and modern furniture?"
Let's dive a little deeper into some options of the modern mixed with vintage trend with unique home furnishings to see if this blended style choice is one that best represents you and your home.
If you are ready to begin playing with intermingling these two styles into your space, Albarado's skilled design consultant team is ready to assist you in making each fine furnishing choice.
4 Ways to Mix Modern with Unique Vintage Home Furnishings
Get Your Groovy On
Create an entirely new look by combining what you may already have with new pieces to create a cohesive style. This will also allow more bang for your buck when purchasing new, unique home furnishing pieces from Albarado's.
For example, that groovy, velvet sofa that you just had to have at the flea market years ago, that still seems to not match with anything in your home would be the ultimate vintage statement piece when paired with modern sitting chairs and other modern pieces in your living room.
Or, how about that armoire you inherited that doesn't seem to serve as a functional piece in your home, but are just not sure what to do with it? Turn it into a piece that does work for you, like a coffee bar or China storage. There's also a fairly easy way to re-style older pieces to work as a newly refurbished, vintage look. Using chalk paint like Annie Sloan that can be purchased locally or ordered from The Royal Standard is a simple solution being that it doesn't require sanding down of the furniture before use, and will save you a little bit on your unique home furnishings budget for new, modern pieces.
Make it POP 
Add in pops of color to combine the two styles with colorful artwork that speaks to you. Choose pieces that you know will bring you joy every time you look at them. Thrifting for artwork and unique home furnishing accessories can be a fun and budget-friendly way to incorporate the vintage look with Albarado's wide selection of modern pieces.
Changing out current hardware on pieces you already have is also an easy way to add pops of color to modern pieces. Check out Distinctive Hardware & Décor for a great, local selection of decorative cabinet and door hardware.
Paint it Black 
Dare to go to the dark side with your wall paint color choice? By using a trending and intriguing color like one of HGTV's 2021 colors of the year, Dark Bronzetone by Sherwin Williams you can create a bold palette to work around when adding in your unique home furnishing picks.
Giving your cabinets a daring new look by painting them a dark color like Annie Sloan's Athenian Black and adding sleek, modern hardware is another way to combine modern style with vintage looks. Check out this how-to video to get started.
Functional Fun
Your modern furnishing and décor choices can also allow for a little more function than some vintage pieces. Wouldn't a record player be a great accessory to pair with that vintage, velvet sofa in your living room? Choose a modern version of this accessory to ensure functionality like this orbit custom turntable by u-turn AUDIO: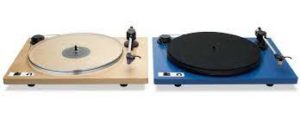 The design consultant team at Albarado's can help you pair functional, modern, and unique home furnishing pieces to complete this combination of modern meets vintage look for you at whatever step in the re-styling process you are in. The sooner you schedule your design consultation with Albarado's Fine Furnishing the sooner you get to enjoy your newly re-styled space!