Choosing the right colors for your office can make a huge difference in how productive and inspired you feel while working. Depending on what type of job you have and how you want to feel while working, the best color for your home office could range widely from vibrant, energetic oranges to soothing, harmonious beiges, blues, and greens.
Consider Your Overall Goal for the Home Office
Different colors can be used to evoke different feelings, such as calming, energizing, or creative. The best colors for a home office, regardless of hue, are likely going to be used as an accent wall or in light shades, rather than bold, dark shades.
The base color, usually white, grey, or beige, will affect how the color scheme holds together. It is highly recommended that you consult a professional interior design service in order to find a color combination that will be both soothing to the senses and stimulating to the mind. Some of the most popular choices for home office colors are detailed below:
Blue is often associated with feelings of trust, professionalism, and serenity, and is, therefore a perennial favorite as a home office color.
Red is a powerful color that can evoke feelings of passion, excitement, and energy. It could be a good choice for a home office if you need to keep up a high level of stimulation, but it might become overwhelming or distracting if you need to focus deeply on your work.
Green is the color of nature, growth, and balance. It encourages relaxation and helps promote focus while working. Green is one of the best colors for a home office for people in customer-facing roles, as it helps you keep calm under pressure.
Purple is traditionally linked to creativity and imagination and can be used to inspire unconventional thinking and problem-solving. This is a good choice for the home office for people in creative roles in industries such as marketing and design.
Yellow and Orange encourage positivity and happiness and can invite cheer and optimism into your space. These colors work wonderfully if you need a little boost to your mood in your workday.
Of course, you will want to feel happy, confident, and comfortable in your home office, so you can always just pick your favorite colors and start from there. If you have a logo for your business, coordinating the colors with your logo shows professionalism and attention to detail.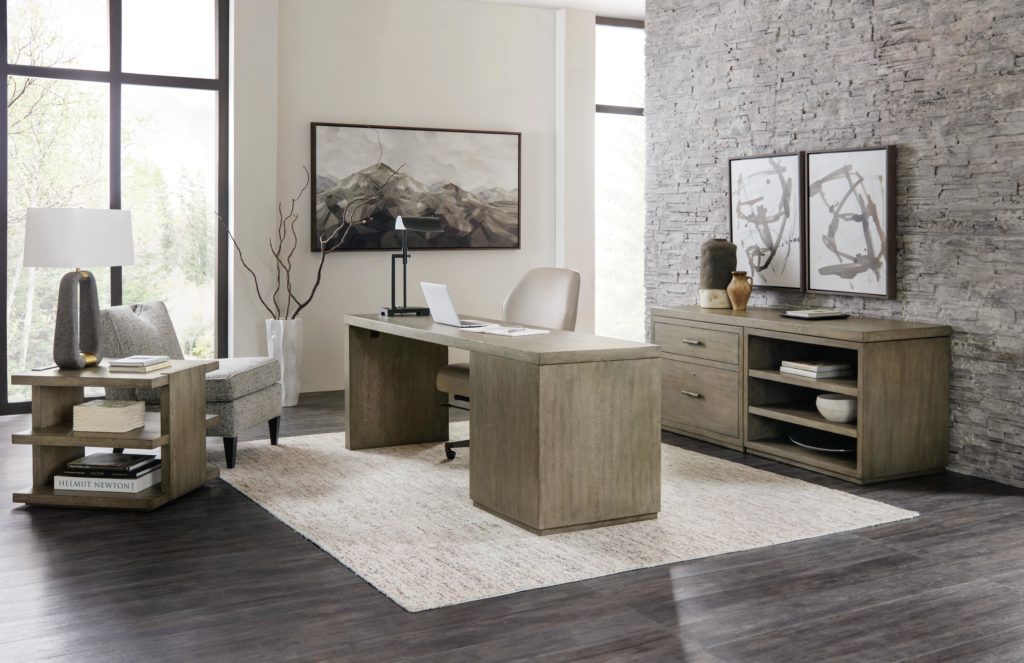 Balancing Bright and Neutral Colors
Now that you've chosen colors that match the feeling you want to evoke, it's time to create a balance between them. Use your brighter colors as an accent, and choose a few pops of bolder hues to draw the attention of the eye while keeping the overall look neutral. Coordinate with existing furniture and décor so that everything looks cohesive and put together.
In addition, different lighting can change how a color looks, so experiment with various types of bulbs and natural light to see how the final color will appear.
Accessorizing With Color
Pick out a couple of contrasting or complementary colors you love and use them in small doses throughout the room. Use textures and patterns to make different colors stand out. Accessorize with pieces like throw pillows, rugs, framed artwork, and window treatments that match the color scheme you have picked out for yourself. This is sure to create a vibrant and inspirational workspace.
Additionally, think about any prints or patterns that could be complemented by the colors you choose. If you are naturally drawn toward a certain pattern or texture, use it frequently, as it could be a subtle boost in your daily passion, focus, and creativity.
Read also: Home Office Essentials to Maximize Productivity
If you're in search of interior design services in Lafayette, LA, come in to Albarado's Fine Furnishings today. Our design experts will help you choose a paint color and design your home office to maximize your productivity and foster inspiration at no cost. Take advantage of our complimentary design services today!