An area rug is a common addition to a wooden floor, and it provides beauty, warmth, comfort, and interest to a room. It can help divide spaces and seating areas. An area rug defines the overall design of a room and can unify the furnishings in a space. It can even reduce noise. There is a lot to consider when buying an area rug, but our tips below will help guide you to find the perfect one for your room.
4 Tips For Choosing an Area Rug
Determine the Size
The size of an area rug will be determined by the size of your space. Always use the measurements of your room to guide you in choosing the best size rug for your room. They come in a range of sizes and a few inches can make all the difference. A good rule of thumb is to choose a rug that is two feet shorter than the smallest wall, for example, you should choose an 8'x10' for a 10'x12' room or a 3'x5' for a 5'x7' room.
Decide the Shape
There are different rug shapes for different types of spaces.  For example, a square or rectangular shape will work best in an office or tight space, but for a family room, you may want something more circular since it is used as additional seating space. Also, if you want to show off the floor, like in the entryway, you should choose a round rug. For high-traffic areas, such as the kitchen and living room, you may want to choose a square or rectangular shape. Conversely, choose a round or oval rug for low-traffic areas.
Before choosing a rug, consider what you want to show off in the room first. For example, if you already have statement artwork on the wall or floor, a simple, round rug can highlight that. Also, your personality can help to determine the rug style that is most suitable for a room. Some examples include an oval or rectangular rug for a traditional style and an oval or round shape for a rustic look.
Typical Area Rug Shapes
Rectangular. Rectangular area rugs give a room a traditional look and should be used in larger spaces.
Round. Considered playful, cozy, and soft, and used in a small space to make a room feel larger. A round rug is generally not used in larger spaces.
Square. Use a square rug in a square room and pair it with square-shaped tables.
Oval. Oval rugs identify certain spaces that are meant to be used for specific purposes and fit into spaces that might be challenging.
Octagonal. This shape rug is a totally unexpected twist among the interior decor elements. Experimenting with different shapes indicates your intriguing nature.
Asymmetrical. For a modern and inventive look, an asymmetrical rug will add style and uniqueness to a room.
A good tip to help visualize your perfect rug in a space is to use painter's tape to map out the rug's size and placement. It will give you an idea of what your ideal rug size will look like in the room. Once you have chosen an area rug from your local furniture store, then it is time to think about how you want to show it off.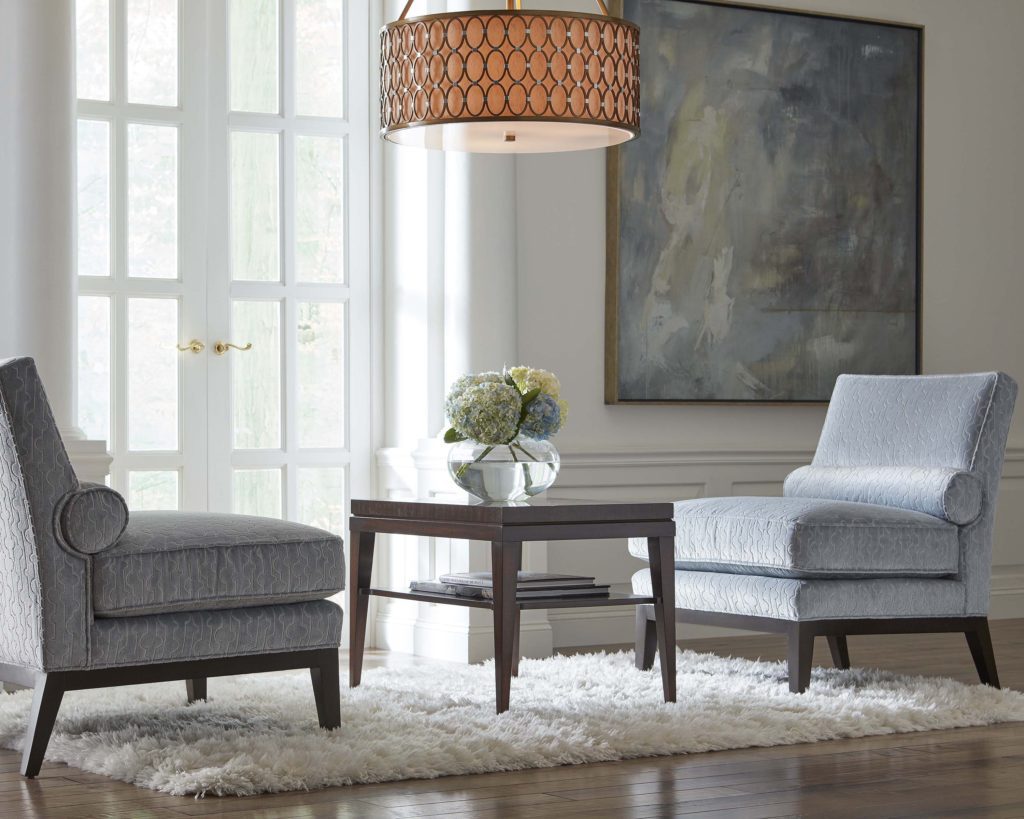 Consider the Material
Here are some of the most common area rug materials and constructions:
Natural fibers. Rugs that are made of natural fibers, such as cotton, jute, silk blend, wool, sea grass, and sisal, are durable, come in a range of colors, and have a soft, thick feel to them. However, they are also more prone to fading and staining even though they look beautiful in a space.
Synthetics. Synthetic fiber rugs are perfect if you have younger children or pets since they are resistant to staining and, therefore, easier to clean. Nylon polyester and polypropylene rugs are strong, durable, and resilient enough to be used even outdoors. They are ideal for high-traffic areas and come in many colors.
Machine made. Patterns are pre-set to create the desired look and construction and can be almost any type or style. They have high resilience and stain resistance but tend to not last long.
Flat weave. They are woven on a loom or can be made by hand, which work well in high-traffic areas and near doors.
Hand-hooked. They are made of loops so that the effect is soft and nubby.  Generally, they are best used in low-traffic areas, so would not recommend a hand-hooked rug for a home with pets.
Hand knotted. These rugs are densely-knotted, detailed, and feature hand-tied threads and yarn that create the design.
In addition, you should also consider the practicality of the material, such as the kitchen or outdoor space. A kitchen rug should be stain-resistant since you can easily spill food or drink on it, and an outdoor rug should stand harsh weather.
Colors and Patterns
Consider the range of colors to draw the eyes to the center of the room. If your space is mostly solid colors, use a patterned rug. But if you have patterned wallpaper or furniture, use a single solid color rug.
Finding the perfect area rug may not be an easy task, but with the help of your local furniture store in Lafayette, LA, you can narrow down the search. If you make scale, style, and function a top priority when rug shopping, you will find the area rug that fits your design vision.
If you have questions about buying an area rug or any other furnishings for your home, contact Albarado's Fine Furnishings today. Our design experts can help give you insights into some of the best area rugs and how to style them. You can also view the variety of furniture styles, brands, and home accessories we sell to decorate the whole home inside and out.
Source:
https://www.hgtv.com/design/decorating/furniture-and-accessories/how-to-pick-the-perfect-area-rug