A coffee table is an essential furniture piece in the living room that is very functional. Sometimes searching for the right coffee table fit can seem easy and hard at the same time.
With the various styles, shapes, and materials available, buying a coffee table can be quite daunting. Trying not to over or under scale a coffee table can make people feel lost in the decision-making. Albarado's Fine Furnishings, the furniture shop in Lafayette, LA, can help you stay on track with the guidelines and find the ideal coffee table for your home.
Things to Consider Before Buying a Coffee Table
Shape. Coffee tables come in a variety of shapes, such as rectangular, round, square, and oval. Each serves a specific purpose, so it is recommended to decide on the shape of your coffee table based on the seating arrangement in your living room.
Size. The dimensions for a coffee table will depend on the height and length of the sofa (couch). What is the ideal size for a coffee table? To maintain a comfortable level, the table should be within one to two inches of the height of the sofa's seat and two-thirds that of the sofa's length. The space between the table and sofa should be about fourteen to eighteen inches.
Material. Consider your lifestyle and how the coffee table will be utilized when deciding on the material for the table. Wood and metal material is durable and easy to maintain, while acrylic and glass provide a lighter, more open feel to a smaller space.
Coffee tables are catchalls for items such as newspapers, magazines, dinner plates, remote controls, coffee mugs, and much more. Choosing the right table is as much about aesthetics as it is about the way it feels.
When the symmetry of a space is accomplished, the style of a coffee table and sofa placement will enhance the appearance of the living room. Also, remember to leave adequate spacing between the coffee table and other furniture pieces to create a smooth flow for easy walking and lounging.
When buying a coffee table, one size does not fit all. Since they have evolved into a multi-functional furniture piece, it is the size of the sofa and set up of the living room that dictates the right coffee table to purchase.
If your space is small, consider materials such as acrylic, glass, and mirrored surfaces that reflect light to make the room appear larger. You may also want to opt for rectangular or oval coffee tables as they do not impact traffic flow as much as square or round ones would.
The style of a coffee table should also rely on the theme of the living room decor. But if you deviate from the theme, it would be wise to buy a table that is complimentary to avoid an appearance of confusion. It is the coffee table that pulls everything together in the living room.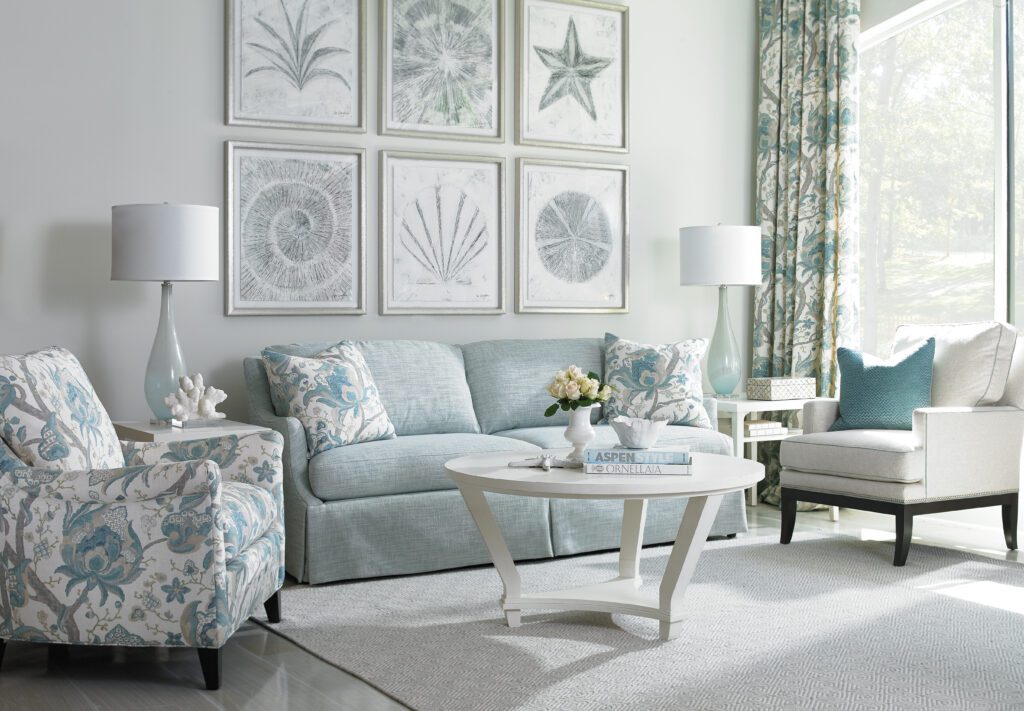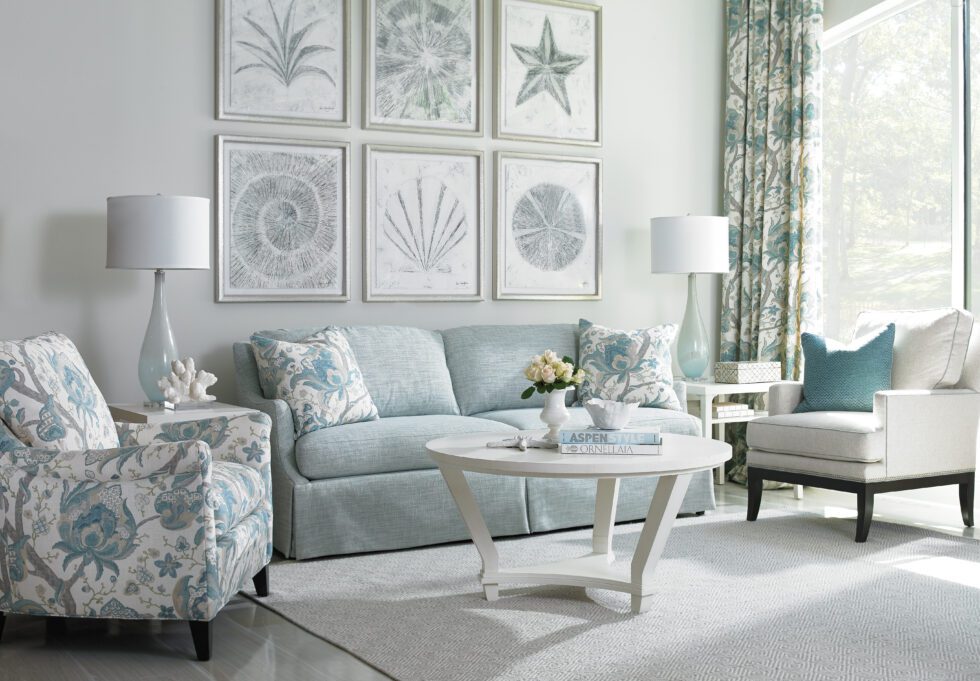 How to Choose the Right Coffee Table Shape
Rectangular tables go well with the standard horizontal sofa or an extra long sofa with a chaise. It is also a great choice for a narrow space with minimal walk-around.
Square tables fit better with a sectional or L-shaped sofa. It also would work with the traditional setup and a couple of chairs.
Round tables work best in a small space or a sectional with a chaise.
Oval tables are best if there are small children in the home and you want to avoid an accident. An oval table also goes well with the traditional sofa style and high-traffic living rooms.
The living room is the place to entertain guests or rest and relax after a hard day of work. So, when you are buying a coffee table from a furniture shop near you, you need to consider whether you want one that blends in or stands out.
To blend in, select a coffee table that matches the decor of the room and the other furniture pieces. If you would like a coffee table that stands out, then pick one that has a contrasting style, material, color, or shape.
To create a different look, consider non-traditional items that serve the function of a coffee table without actually being a coffee table. There are so many possibilities when trying to decide on the type of coffee table that fits your lifestyle and blends in with the decor.
You can even purchase sets of matching coffee and side tables in many styles, but only if you have the adequate space for them. No one wants a coffee table that overpowers the living room. You can also decorate your coffee table to your liking.
Types of Coffee Table Materials
Wood coffee tables are warm, versatile, and timeless. The most popular types are oak, walnut, mahogany, and maple.
Ceramic is a modern design that will give the living room a luxurious feel to it.
Metal is the popular choice for industrial design but is not limited to this style. Metal tables are sturdy and often weightless than wooden ones.
Acrylic looks like glass but is lighter with a lower price tag. They also have an unusual design to them.
Upholstered coffee tables add softness and comfort to the living room.
Glass coffee tables add a classic and elegant sheen to the room.
Leather is used only for table surfaces and will give a coffee table a look that is equally stylish. Its plush, cushioning design invites you to prop your feet up on the table.
The living room is where the family gathers to spend time together and entertain guests, and buying a coffee table does not have to be a challenge.
Ideally, every living room should have a coffee table. It is the furniture piece that ties the space together. Albarado's Fine Furnishings is the furniture shop in Lafayette, LA, that has a wide selection of coffee tables available. Our sales team will work with you to find the table that makes the best addition to your home.
Contact us to view our coffee table collection and/or any other furniture pieces! We are the furniture store that treats our customers like family and is committed to delivering first-rate service. Since furniture is a reflection of the homeowner's personality, stop by our showroom today so we can help make your home a happy place.