A well-designed accent wall can transform a ho-hum room into a place that feels tasteful, elegant, and stylish. They can bring a room's design elements together into a more cohesive whole and create a sense of artistic comfort. The following six accent wall ideas are a few factors to consider to help bring out the room's highest potential.
6 Creative Ways to Create an Accent Wall
Contrasting vs. Complementary Colors
In short, contrasting colors are opposite to the prevailing color scheme of a room, and complementary colors go along with the overall palette. In rooms that are more densely decorated or feature eye-catching works of art, furniture, or conversation pieces, using a complementary color for the accent wall is typically the way to go.
A contrasting color can be overwhelming to the eye in a room that already has strong design elements. On the other hand, in a more sparsely decorated room, a contrasting color on an accent wall can make all the difference toward creating an inspired-looking space. This is particularly true when the furniture and décor are all similarly matched in colors. The contrast can really make the room pop!
Dark vs. Pastel Shades
Colors have the power to affect our moods and impressions. Although a professional interior designer or consultant could likely come up with several exceptions, the rule, in general, is that darker colors are more somber and elegant, and pastels appear more lighthearted and youthful. Dark, bold shades can add an impression of high fashion or luxury.
Pastels are fun, clean, pleasant, and great for when you want to create a soothing, gentle atmosphere. Whether you choose bold, vibrant colors or lighter, pastel shades should depend on how you want the room to be used. An office, study, or library could benefit from the formality of darker colors, whereas a child's bedroom or sunny living room might make more sense in the context of a pastel accent wall.
Murals and Wallpaper
Full wall paintings transform your walls into works of art themselves. They are, of course, fully customizable and suitable to any size of room or color theme. One of the great things about murals is that they are guaranteed to be one of a kind and can convey your unique taste and preferences.
Murals are only limited by the talent of the artist you are able to commission. They are certain to be conversation starters and can even incorporate personalized elements that are specifically meaningful to you and your family.
Alternatively, you can buy wallpaper in a plethora of designs and patterns. With countless options available, you are sure to find something that suits your taste and your intentions for the room.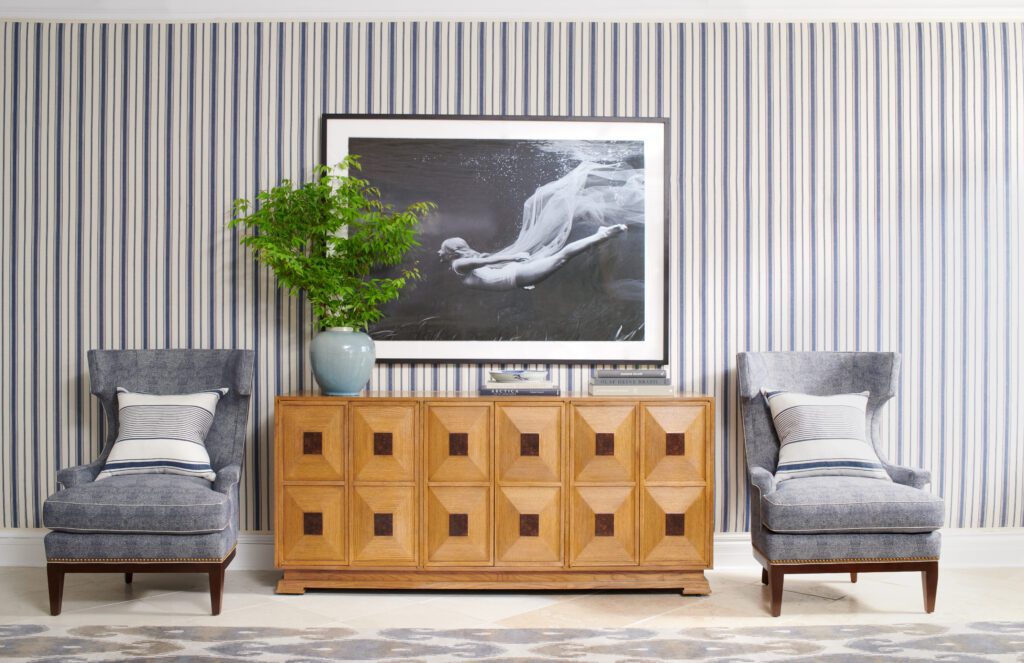 Brick and Stone
A brick or stone accent wall immediately lends itself to a strong sense of permanence and gravitas. These materials used in an accent wall can promote feelings reminiscent of nobility and country estates.
Stone is a good choice for homes with a predominately rustic, bucolic, lodge, or old-world European feel. Brick can accomplish the same thing or add an urban, industrial edge depending on how it's used.
Wood
Wood is a fabulous way to invoke impressions of nature. Wood comes in a wide range of colors and can be painted with any color finish. Panels, boat wood, barn wood, and polished teak or mahogany are all distinctive means of making a strong contribution to the theme of a room.
Shelving
Another great idea is to use shelving as an accent wall. Built-in shelves can be placed in any number of unique configurations to give your space a utilitarian and tasteful accent wall.
Also, check out our guide to choosing an accent chair for your space!
For more accent wall or home decorating ideas, request a complimentary design consultation today! We are a leading interior design service provider in Lafayette, LA, and can help you create any space you can envision.
Hear what our customer says about our design services