It can be quite challenging to create a productive work environment when you are not in a typical office setting. But with a quiet area, comfortable furniture, smart storage solutions, and setting boundaries for working remotely, you can design the perfect workspace at home.
Making a dedicated work area can help you to build a work-from-home balance that boosts productivity. It can also allow you to be more focused and organized to knock out your daily tasks. Below are some ideas on how to set up your home office layout for success.
7 Home Office Layout Ideas
A meeting room
If meetings are basic to your business, consider creating a space with seating for several arranged around a coffee table with the office desk on the opposite side of the room facing the meeting area.
Facing the entrance
Facing your desk towards the room's entrance puts you in a secure command position and gives off a sense of control. It makes you able to see whoever may be coming to the office.
Made to suit your needs
If your business does not rely on a traditional desk setup, then buy one to suit your needs. For example, if your business requires a lot of shipping, install a long surface against one wall where you can pack, wrap, and weigh your packages for postage. This also allows room to hold a computer and office equipment if needed.
Balancing work and life
When using the traditional setup for a living room-office combination, place the desk behind the sofa. You can also get an attractive desk chair on caster wheels to roll easily into the living room area or invest in room dividers such as folding screens, curtains, or bookcases to separate the living space from the office workspace.
In a corner
Place your computer away from distractions by setting an L-shaped desk in a corner. This desk style may also serve as additional surface storage, which will be helpful if you have a smaller space.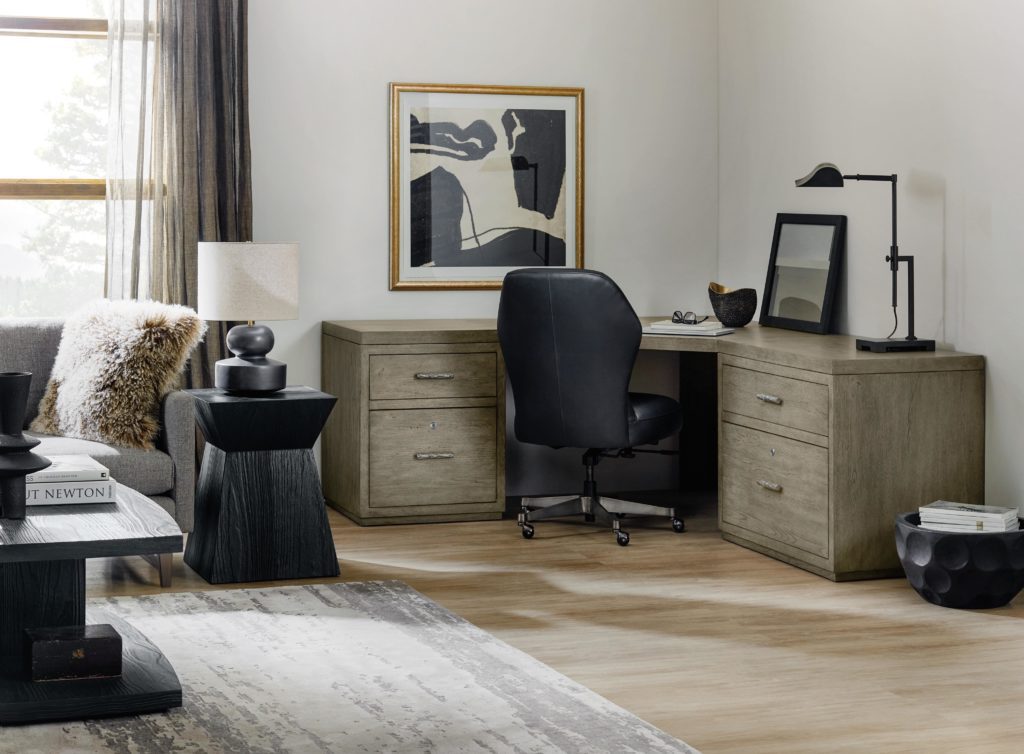 Break corner
Set up a "break corner" in your office room so that you can take frequent short breaks and stay productive throughout the day. A few things you can add to this corner include candles, a blanket and a pillow for a quick nap, or a small dumbbell and a yoga mat for a brief workout.
A clear view
If the office room has a calming view, situate your desk nearby the window but try to avoid a hectic scene outside, which could be distracting. Install window treatments, such as roman shades, to control sunlight and provide privacy.
Setting up a proper workstation for success will improve efficiency. The best home office setup should allow you to be productive to get the work done. By making the most of what you have and adding the right home office furniture and decorating accordingly, you can create your ideal home workspace. No matter how you decorate, furnish, or create your home office, following these layouts above can help contribute to your work-from-home success.
Read also: Home Office Essentials to Maximize Productivity
If you need help designing a functional home office workspace, contact Albarado's Fine Furnishings. Albarado's is the home furniture store in Lafayette, LA, which has a highly qualified team who will work with you to design a home office space or pick the perfect home furniture pieces that suit your work needs and can streamline your workflow to be productive. We have a wide collection of high-quality home office furniture and a professional delivery team to ensure that your furniture will be delivered to your door in a timely manner. Stop by our store today!