Picking out an interior paint color for your home is one of the hardest design decisions someone will need to make. Trying to imagine how a color will look on an entire wall just from a paint chip is not easy to do.
Choosing the right color to live with for years to come can be a tricky process. A color may appear one way on a sample paint can but then look different when applied to the walls. So, to avoid painter's remorse, it is important to learn from the common painting mistakes people make before you commit to a specific color.
Interior Painting Mistakes to Avoid
Not testing the colors
It is essential to use shade cards or stick-on swatches when deciding on a color for an area. Since the color will change with the light throughout the day, it is important to observe the color in the morning, afternoon, evening, and night with the lights are turned on. This should be done for at least a few days.
Missing the bigger picture
It is important to choose shades that complement each other when selecting colors for multiple rooms, especially if the rooms are adjacent to each other. To obtain a more cohesive look throughout the home, try picking colors on the color spectrum that are close together.
Too many colors in a room
A good rule of thumb to remember when painting a room is to stick to a total of three colors (one accent and two neutral shades). For example, if you opt for a bright and bold wall color, let the rest of the room be lighter to give the room an effortless vibe.
Not considering decor and furniture
Thinking about existing decor and furniture can help to narrow the search for the ideal shade, and ensure that the colors will work well together in a room.
Forgetting the ceiling
Ceilings are the expansion of a space, so choosing a light shade to compliment the walls can create a maximum impact in a room.
Following trends
You should live with the colors you love instead of choosing colors because they are the latest trends. Trending colors should be used in small doses, such as throw pillows or curtains that can easily be changed out if you outgrow them.
Avoiding painting mistakes can help to make the process of finding the perfect interior color a whole lot easier. Also, taking our online interior design quiz to see which style best suits you can help with finding the right interior colors.
Is your design style shabby chic, modern classical, boho, traditional, or eclectic, just to name a few?  Once you know your style, the process of making your house feel like the beautiful home you have been dreaming of can seem less challenging.
Incorporating elements that speak to you and choosing the right colors to compliment them so that it makes sense for you and your home, can be fun. So, taking our design quiz is one way to jump start the adventurous process.
As one of the top interior design consultants in Lafayette, LA, we can also help you to create the home of your dreams. You can request a complimentary design consultation and one of our team members will reach out to you.
Shades, hues, and tints are not as straightforward as you might expect so consulting with a professional designer would be a benefit. However, your choice of paint colors will still boil down to personal preference. You can also read our previous post to better understand how different color schemes can work together.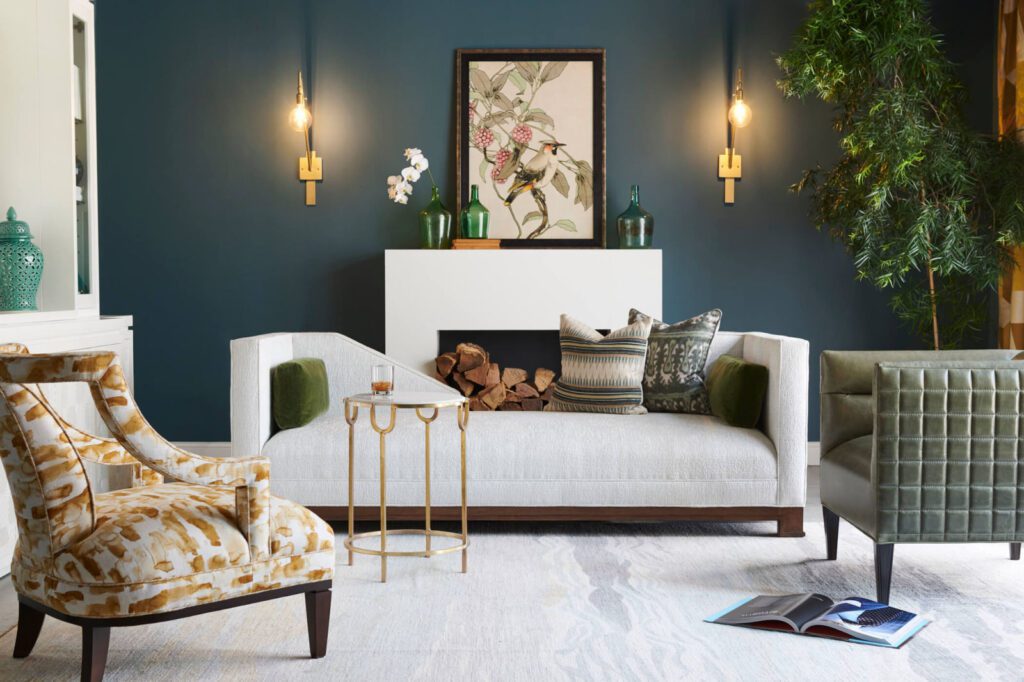 Tips to Know Before Picking Out a Paint Color
Find the right finish
The higher the sheen the more durable and easier the paint surface will be to clean. Although, high gloss surfaces will show dirt. A happy medium would be to opt for an eggshell or satin finish for most interior walls or cabinets.
Measure the space
Using a paint calculator (height and length of each wall plus doors and windows) will help to measure exactly how many gallons of paint you will need to buy. This will prevent not having enough paint for the project and an unexpected trip to the store.
Do you need primer?
Primer is used to cover the original color more effectively so that you don't have to roll on multiple coats. It is used especially if you are going from a darker color to a lighter color. Plus, primer can help paint to adhere to the surface you are painting, prevents chipping, and scratches.
Invest in high-quality tools
High-quality rollers and brushes can make the difference when painting since they won't lose bristles or bits of fuzz. And learning how to clean your painting tools properly can ensure getting more use out of them for future projects.
Deciding on the perfect interior paint colors for your home can be hard to envision. But our in-store design team at Albarado's Fine Furnishings can help you through any design dilemma process.
We can advise on space planning and layout, furniture, color coordination, and accessory options. Our team can help to create an efficient layout to make the most of your home's potential while considering the style you desire. Also, working with interior designers can help to save you a lot of frustration and money in the long run.
Call us today to learn more about how we can help your home feel lived in, inviting, and finished. Let Albarado's Fine Furnishings make your home your happy place.