Your living room is likely to be the room where you spend most of your time when you are entertaining guests or relaxing at home. You will want to have this space clutter-free, welcoming, and comfortable. In this post, we've put together 12 living room storage ideas to maximize your space while still creating a stylish and comfortable environment.
Use a Dresser
Usually part of the bedroom, dressers can also be used as storage furniture in your living room. Use the drawers to put away your entertainment items, like books, board games, or small electronics. If your living room is small, a dresser can also serve as a TV stand, or you can make it blend in a corner using tabletop decor or a painting.
Display a Bar Cart 
Bar carts are an amazing addition to your living room. They can be used for storing and organizing bottles, glassware, and other barware, or, if you don't drink, you can use them to display decorative objects or incorporate closed storage parts to hide miscellaneous items. Bar carts can also function as makeshift shelves, side tables, and drawers, or to get cocktails to and from the kitchen when your family or friends visit.
Floating Shelves 
Ditch the bulky furniture and maximize the use of your walls through vertical storage with floating shelves. Great for stashing books, small items, and accessories, they also visually divide a blank wall into stylish sections, where you can display items or keep them away neatly. You can continue making your living room look larger and clutter-free by adding floating cubbies and small hooks to store your belongings vertically instead of having them on your furniture and floor.
Use a Desk to Create a Home-Office Space
Place a desk into a corner to have a 2 in 1 home-office and storage space in the living room. We recommend using a unit with drawers and cabinets to be able to easily put away various office items. Alternatively, you can position the desk on a free wall, under a window, or slide it up against the back of a sofa.
Read also: 7 Home Office Layout Ideas to Boost Productivity
Choose a Tiered Coffee Table 
We all love a fancy coffee table that offers plenty of room to place a coffee tray, candles, or other small decor items. A two-tier coffee table doubles the amount of storage, offering an additional bottom shelf to store the items you want close by, without throwing them in a box. It's also great when you have a game night or serve dinner, and you can temporarily place everything on a different shelf.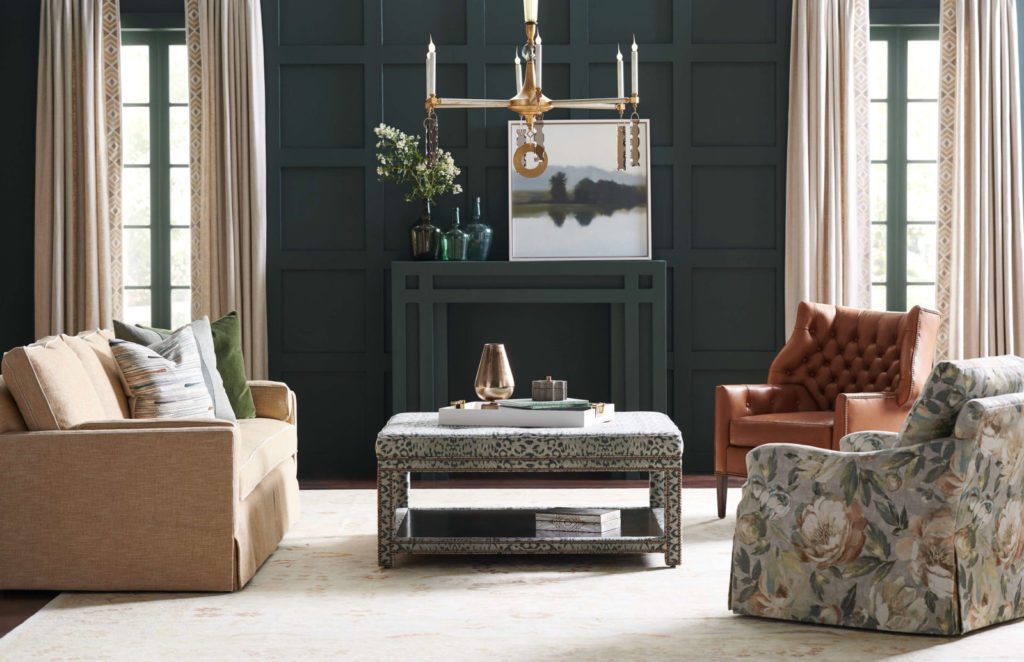 Console Tables and Cabinets
Console tables and cabinets are both stylish and amazing storage options. While a console table usually features a slim profile and fits behind a sofa or against a wall, a console cabinet is slightly larger and offers more storage space. Bring in a beautiful lamp to illuminate the area next to it, and use the remaining surface space for placing various trays and decorations. Opt for a console table with blurred glass panels to tuck away electric cords and items that you do not want on display.
Get a Storage Ottoman 
Storage ottomans are a stylish and flexible storage option for your living room. Available in various colors, sizes, and shapes, ottomans have the advantage of bringing both comfort and organization to your living room. For maximizing the storage space, choose ottomans with a lid that lifts and has added casters inside for mobile organization.
Add Storage to a Window Bench
Opt for double-duty furniture with a window bench that has storage space underneath. The cushion on top offers a place to sit and gaze outside, while the space below can be used for drawers or a flip-top bench, where you can store books, toys and blankets.
Bring In a Basket
You cannot go wrong with a basket. Coming in different sizes and styles, baskets are affordable and stylish, and bring in storage space to your living room. Use small baskets for decorative rocks and seashells, or larger baskets to store blankets, and place a book on top to create a cozy and relaxed vibe.
Nesting Furniture
When trying to save space, choosing furniture pieces that can be tucked away together or under each other is an efficient choice. Nesting tables come in sets of two or three and can be stacked together, or they can also be pulled out and expanded to fit more people. They take up less floor space when not in use, being hidden from sight while offering additional storage space.
Customized and Optimized Shelves 
Whether you invest in built-in shelves around a doorway, or in a floor-to-ceiling shelving unit, or you mix floating shelves with cabinets and wall sconces, dressing up a wall with storage spaces will free up floor space and keep everything organized. Use built-in bookshelves for a library of books, choose geometric shelves for visual interest, and enjoy beauty plus functionality through customized shelving.
Use the Space Under 
There is a lot of space under your side table, window bench, and coffee table. Whether you place hook-and-loop tape around the edges and attach a skirt to hideaway baskets, or stack books in colorful piles to create a beautiful visual effect, these are great storage spaces to exploit.
Use your creativity to get the most out of your living room while keeping a stylish look. When searching for home furniture pieces, such as sofas and chairs, in Lafayette, LA, our dedicated and experienced team at Albarado's Fine Furnishings is ready to help. We carry an array of home furniture brands to fit every area of your home, be it the living room, bedroom, dining room, or home office, that will last for years. Browse our brands or contact us to see what we have to offer!