The living room is one of the most used areas of a house because it has many functions to fulfill such as watching television, relaxing, and playing games. It is the main place where you entertain your guests. So, when the time comes to remodel, or renovate, the living room, it can be a bit overwhelming.
One of the keys to a successful living room remodel is plenty of information and planning, even if you are doing just a minor facelift. The great thing about living room remodels is that they usually don't require as much planning or permits as other rooms might. There are so many ways to create the ultimate living room and Albarado's Fine Furnishings is the local furniture store to consult with on the project.
Knowing the right time to remodel the living room is dependent upon the type of project you are considering. Is the living room outdated? Does the space not feel inspiring and comfortable anymore? Are you considering selling the home soon? If the answer to these questions is yes, then it might be time to start planning your living room remodel.
Summer is the most common time people consider doing a remodeling project. The kids are out of school, curb appeal is on the mind, and good weather makes it easy to want to spruce up the house. But the best time to remodel a home is when you are ready. Plus, not all living room remodels need to be a major overhaul. Sometimes a simple refresh is sufficient and can be just as satisfying.
Living Room Remodeling Ideas
Add space. If you can afford the expense of knocking down a wall, this will create an open concept plan allowing for more space. We have also covered the pros and cons of an open concept plan here.
Change the layout. Sometimes just moving furniture around can give the living room a fresh new look. Plus, rearranging the design of a room can be very gratifying.
Change or refinish the flooring. There is a variety of flooring materials available to suit all budgets. Refinishing hardwood floors or purchasing tile and laminate flooring can help transform the space into a beautiful living room.
Paint. The most cost-effective way to give a room a facelift is to paint it. Whether you paint all the walls, one wall as a focal point, the baseboards, and moldings, the transformation will be rewarding.
Improve the lighting. You can create the ambiance and mood of a living room simply by updating the lighting. Adding table lamps, floor lamps, picture lights, or replacing central light fixtures such as recessed lighting can help to modernize the living room.
Reupholstering (recovering) the furniture. If the furniture frame is still in good quality, consider reupholstering to create a more appealing piece as opposed to buying a new one. Or you can choose a loose covering instead.
Replace windows. Old windows stand out and can be an eye sore. Investing in new ones will provide much more effective insulation to the home and can help lower your energy costs. They will also provide a great return on investment for resale value.
Upgrade the decor. If the living room is functional, consider replacing accent pieces such as rugs, throw pillows, curtains, and artwork with the latest trends.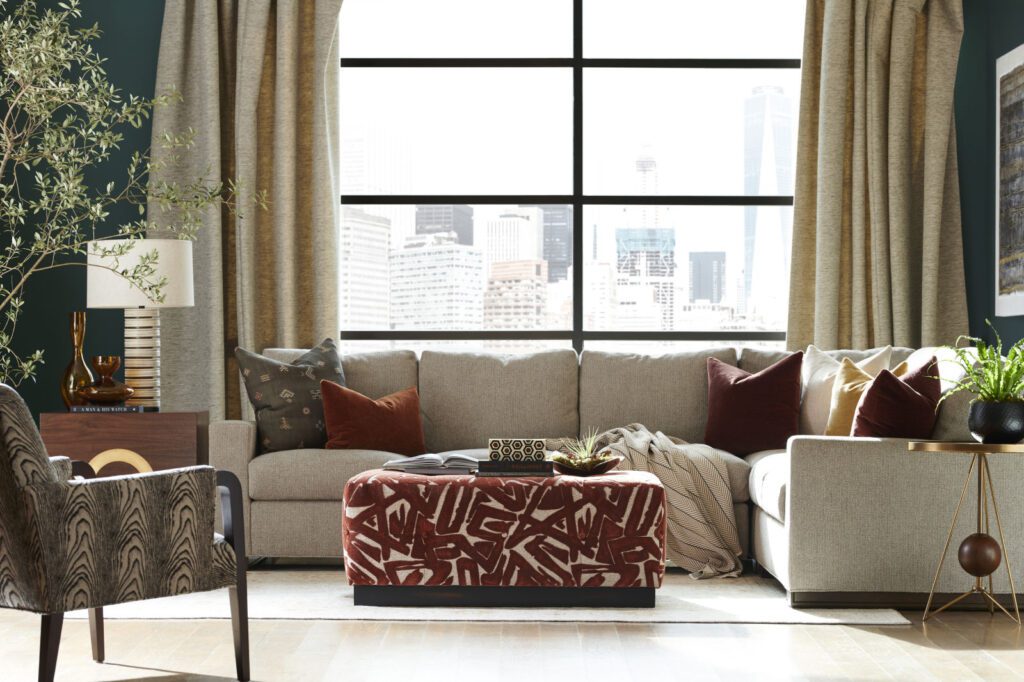 Staying Sane During Your Living Room Remodel
Set a budget. The first discussion to have should be on setting a budget. It is highly important to be clear on how you plan to pay for things such as the use of credit cards, loans, or other methods.
Stay flexible. Since there is no such thing as a perfect remodel, it would be wise to create contingencies for backup options to help make the process more manageable.
Choose your battles. Nitpicking every detail is one of the biggest stress factors in remodeling. At the start, it is important to communicate the one thing you will not budge on so that you will be comfortable compromising on other particulars.
Use your vacation time. Working a full day and then heading home to work some more on the remodel can consume your energy leaving you with zero downtime. Using vacation time, even for a few hours a day, can drastically reduce the remodeling stress.
Work together. We all know that sometimes it is just easier to work alone to get a job done but tackling a remodel as a family can help to reconnect everyone. Plus, it can help see you through the living room remodel easier.
Separate from the process. Remodeling takes up so much time that it is easy to let it interfere with other areas of your life. Compartmentalizing the remodel can help to leave the stress of cost, materials, and contractors behind when you are dealing with other tasks or spending time with family.
Transforming a living room space into the design of your dreams can be stressful. Whether you want to rip up the floors, paint, or tear down walls, there are many ways to make your living room look and feel professionally designed.
Albarado's Fine Furnishings is the local furniture store in Lafayette, LA, that can work with you to help turn your house into a home. If you are considering a living room remodel because the space is not comfortable or efficient anymore, our complimentary design service can guide you through achieving the perfect space. Contact us at 337-981-4222 to speak to one of our dedicated team members or stop by our showroom to check out our vast selection of quality furniture collections from name brands that we carry. Let us help you make your home feel live-in, inviting, and finished. Only at Albarado's.