Summer is here! This is the season of backyard barbecues, pool parties, dinners, and cocktails enjoyed on the patio, and gatherings of all kinds with friends and family. You've probably put a lot of thought into selecting the right furniture to create a welcoming, comfortable, and tasteful outdoor space for the enjoyment of your family and your guests.
Unfortunately, without proper care, the summer elements and general wear and tear can wreak havoc on your outdoor furniture. The sun and humidity can fade colors, cause rusting, and shorten the life of your carefully selected (and possibly expensive!) pieces.
Caring for Your Outdoor Furniture in the Summer
The following tips for maintaining outdoor furniture are meant to help you enjoy your time on the patio, deck, or backyard with peace of mind.
Wicker
The natural fibers of rattan, willow, or bamboo in wicker furniture add a delicate, timeless appeal to an outdoor space. Wicker is lightweight, which makes it easy to move and re-arrange, but too much sun exposure can cause the fibers to crack and split.
Covering your wicker furniture with a sheet or storing it in a covered area can go a long way toward protecting it. Use warm water and an oil-based soap to clean it as needed, and dry it with a fan when possible. Apply a light coating of linseed oil to protect and condition the fibers and to bring out their natural beauty.
Wood
One of the great things about wood is that it can be stained to match any color palette. It is sturdy and durable and adds a down-home, country-living feel. However, strong sunlight can change the color of the wood, and the wood might warp with repeated periods of humidity and dryness, or after heavy rain.
Marine-grade teak is a great option for wood that is naturally resistant to water, fungus, and warping. With any type of wood, apply a coat of varnish every year or two to protect and strengthen it and keep the colors fresh. To clean wood, use a damp cloth with soapy water and towel dry to remove the excess water. You can also check out our previous post for steps to care for your wood furniture.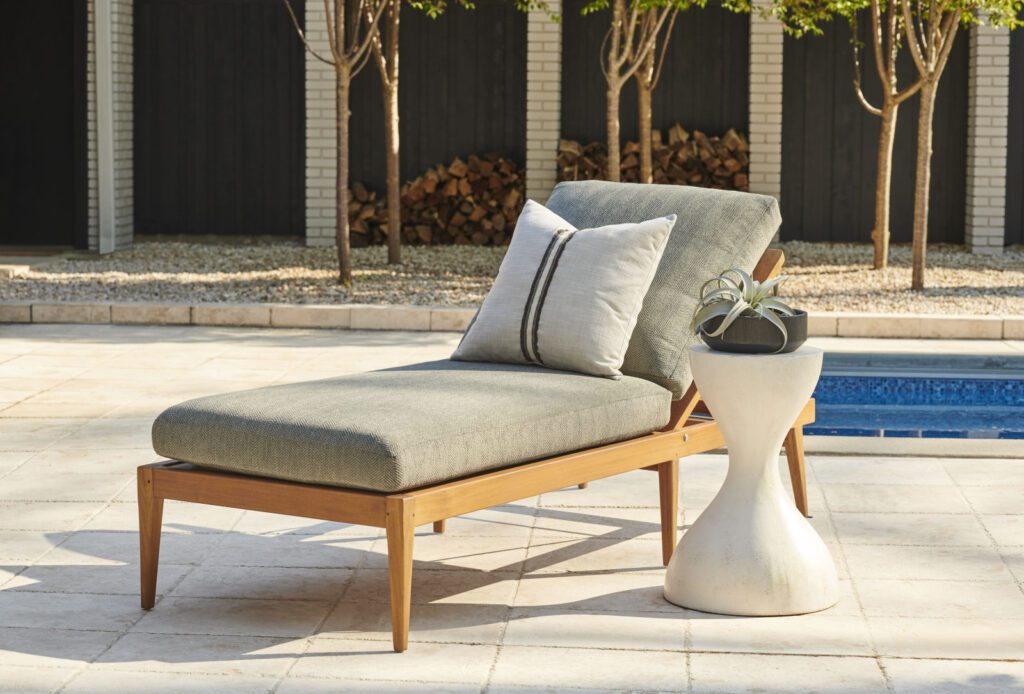 Wrought Iron
At the same time elegant and heavy-duty, wrought iron is a classic choice that suits nearly any design theme. It suits both modern and classical tastes and can withstand lots of usage. This type of outdoor furniture can easily last for years or even decades with some upkeep.
Because of its dark color and rough texture, wrought iron tends to show dust and grime, so it needs to be wiped down with soapy water from time to time. To protect against rust and corrosion, check your wrought iron furniture for chips and repaint it regularly. Use a soft nylon brush to clean the dirt from the nooks and crannies of the ironwork.
Aluminum
Aluminum is lighter and requires less maintenance than wrought iron. It can come in a variety of shades and is a good choice if you want outdoor furniture that shines in the sun. However, it is also susceptible to corrosion and discoloration and can be weakened by abrasive cleaning materials like bleach and wire scrubbers.
Use a microfiber cloth to clean and dry your aluminum patio furniture to keep it shiny. Wash it with a gel-based soap periodically to protect the waxy coating and prevent the white buildup that can occur with aluminum.
Cushions
If your outdoor furniture has cushions with removable covers, you are in luck. You can simply toss the cover in the washing machine and dry it on low or medium heat to prevent it from shrinking. If not, use a sponge and warm, soapy water to spot-clean your cushions, and be sure to allow them to dry completely before they are put back on your furniture.
For more expert advice on selecting and maintaining your outdoor furniture, contact Albarado's Fine Furnishings. We are more than just a Lafayette furniture store for the finest quality home furniture and accessories. We also have in-store design experts who can help make your dream outdoor space a reality.
Contact us today to find your next outdoor furniture pieces or to schedule a complimentary design consultation!