Home is a place where we seek solace, warmth, and tranquility, particularly in a world that seems to move at a dizzying pace. Many homeowners yearn for the perfect blend of southern comfort and quiet luxury in their home design, where they can find respite from the chaos of everyday life while surrounded by an atmosphere of elegance. This seamless blend of warmth and sophistication sets the stage for a welcoming and serene living environment.
What is Quiet Luxury in Interior Design?
Quiet luxury refers to a style of interior design that exudes subtle opulence through the use of high-quality materials, fine craftsmanship, and thoughtful details.
It eschews the showy ostentation of more flashy decors in favor of creating living spaces that feel cozy and inviting while still conveying a refined aesthetic.
Blending Southern Comfort with Quiet Luxury
Crafting a Welcoming Ambiance
The essence of Southern comfort lies in hospitality, making guests feel at ease as soon as they step foot inside the home.
A welcoming foyer, complete with a charming high-end chair or a warm rug, sets the stage for a comforting ambiance. The foyer table could be an antique piece or crafted from rich hardwoods to establish an elegant first impression.
The use of soft colors, such as creamy neutrals or warm earth tones, contributes to a relaxing environment.
Adding high-quality plush furniture adorned with cozy cushions and throws creates a haven where family and friends can unwind and share laughter-filled evenings.
Balancing Warmth and Elegance
To strike a balance between warmth and elegance, it is crucial to pay attention to the fine details.
Incorporating antique high-end furniture pieces or heirlooms adds a sense of history and legacy to the design. These timeless pieces infuse characters and tell stories, creating an atmosphere of subtle luxury.
Additionally, artwork and accents can introduce luxurious touches, whether it be a statement chandelier above the dining table or a carefully curated collection of paintings adorning the walls.
A stately fireplace mantel crafted from marble or rich hardwoods paired with high-end accent chairs creates an elegant gathering place.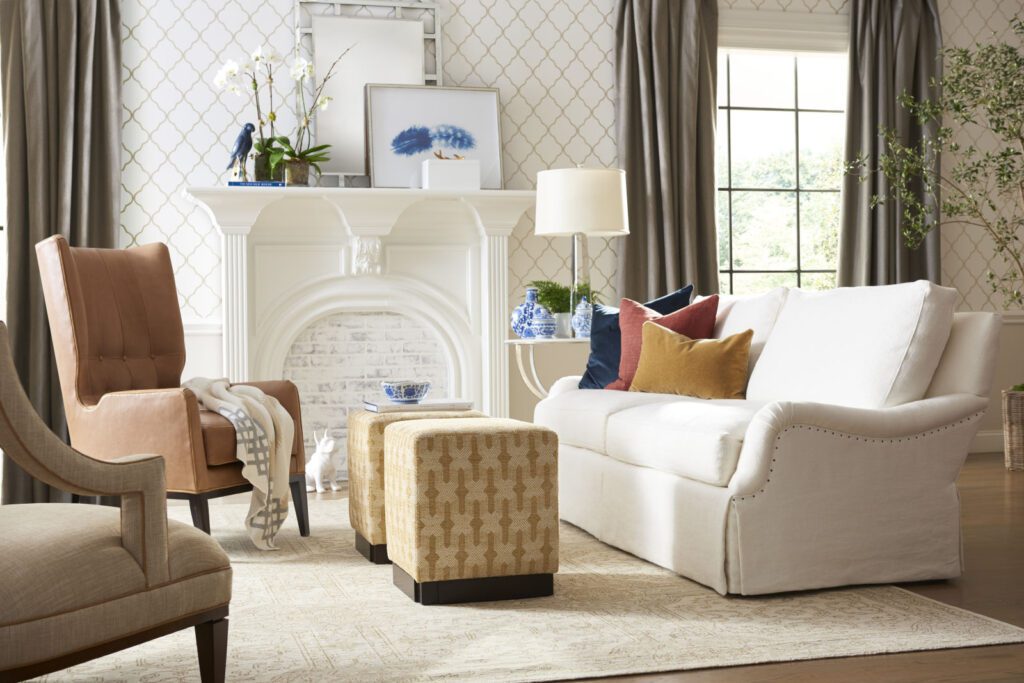 Harmonizing Indoor and Outdoor Living
One of the central aspects of Southern comfort is the harmony between indoor and outdoor living spaces. Expansive porches or verandas, often shaded by pergolas, provide a space for homeowners to bask in the beauty of nature.
Outfitting the porches with high-quality outdoor furniture made of weather-resistant materials creates an inviting space for relaxation and conversation.
Furthermore, incorporating large windows throughout the house, strategically placed to capture scenic views of the surrounding landscape, harmoniously brings the outdoors inside, fostering a sense of serenity.
Positioning high-quality furniture, like oversized armchairs or plush sofas, near the windows allows one to curl up and immerse themselves in the tranquil views.
The Importance of Thoughtful Details
Attention to detail plays a pivotal role in creating a home that exudes warmth and elegance. Thoughtfully chosen lighting fixtures, such as cozy sconces or elegant chandeliers, add a touch of romance to the atmosphere.
Incorporating natural materials, such as wood and stone, imparts a feeling of authenticity and earthiness while simultaneously exuding refined elegance.
It is in the harmony of these elements that the true essence of Southern comfort and quiet luxury comes to life.
Creating a Balance of Comfort and Luxury
To master the art of blending warmth and elegance, strike a balance between comfort and extravagance. A cozy reading nook, complete with an oversized high-quality armchair and a curated bookshelf, offers a corner for relaxation.
A well-appointed master suite, outfitted with plush bedding, soft lighting, and delicate drapery, creates a haven for relaxation. The combination of comfort and luxury in these spaces, furnished with high-quality furniture, creates an intimate and luxurious experience.
Read also: 6 Must-Have Elements for Your Luxury Home
In conclusion, blending Southern comfort and quiet luxury in home design can create a haven that is both warm and elegant. The incorporation of warm colors, plush furniture, and timeless accents set the stage for a welcoming ambiance. The harmonious connection between indoor and outdoor spaces further enhances a sense of tranquility.
Lastly, paying attention to details that exude both a sense of comfort and luxury, such as lighting and natural materials, completes the picture of a home that offers solace and sophistication.
So, whether one seeks respite from a bustling lifestyle or simply aspires to create an atmosphere of warmth and serenity, the amalgamation of Southern comfort and quiet luxury in home design is sure to provide the perfect haven.
If you are looking for assistance achieving the perfect blend of these two design styles without adding more stress onto your busy plate, Albarado's Fine Furnishings offers design consultation services in Lafayette, LA, that can help bring your vision to life!
Get in touch with our team of design consultants who can help you achieve the home decor look of your dreams!