Lighting has a significant impact on our lives. Research shows that lighting can, directly and indirectly, affect our behavior, mood, and hormonal balances. For example, one study claims that good lighting can create healthier home environments, more productivity at work, and all-around happier surroundings.
Using Color to Brighten Up a Dark Room
Choosing the best color scheme to brighten up a dark room is essential because dark colors absorb light making your room feel darker, while light colors reflect it around the room, creating a brighter, more open feel to your space. There are several ways to use color to lighten up a dark room. First, pick a pale or cool shade for the walls, ceiling, or wallpaper. Next, create warmth in a space by adding pops of sunshine; colors like red, orange, or yellow.
Using white reflective accents can also be an effective way. For your new light-colored walls to have the brightening effect you desire, there has to be enough light in the room to reflect off of them; otherwise, the space may appear dark and flat.
Assess the Potential Cause
Before deciding how to create more light in a dark room, you have to assess the reason your room is dark in the first place. Is it a lack of natural light, poor paint choice, a lousy layout, or ineffective lights? Does your room have a window? If so, are there trees or bushes that need trimming to allow sunlight access to your room?
Next, look at the inside window sill, is it cluttered with your belongings or blocked by a heavy window treatment? Use light curtains or blinds; beige or gray would be a great color choice. Keep the blinds open to allow sunlight in the room. The final step to achieving the most natural light possible is to clean your windows inside and out. If your room is still dark, add more light to the room, which we will discuss next.
Lights
It can be challenging to brighten up a dark room when there isn't much natural light. Choosing the right lights in your home is essential because light can quickly become too harsh or create horrible shadows making the room appear dark and cave-like.
Choose warm white light bulbs, light lampshades, and layer your lights throughout the room. Aim your lights upward towards the walls and ceiling and add ambiance with fairy lights and candles. Adding light can help brighten a dark room, but be sure you have open and reflective furniture or accessories to help move the light around the room.
Use Reflective Pieces to Move Light Around a Room
You have lightened up your walls and created more light in your space. Now, you need to move that light around the room. You can achieve this by using reflective wallpaper, accessories, or furniture, adding metallic touches to the room, installing a crystal chandelier, etc.
There are many ways to add light-reflecting pieces to your home. At this point, you can have fun decorating and choose the types of reflective pieces you prefer. Shiny surfaces are great at reflecting light, such as acrylic accents, translucent furniture, or mirrored surfaces.
Mirrors
Mirrors will be your new best friend because, as we just covered, reflective surfaces are good at moving lights around a room. Mirrors can make a room appear brighter and bigger. Strategically placed mirrors can effectively transform the look of a small dark room. Placing mirrors near a light source will help maximize the light it moves around the room.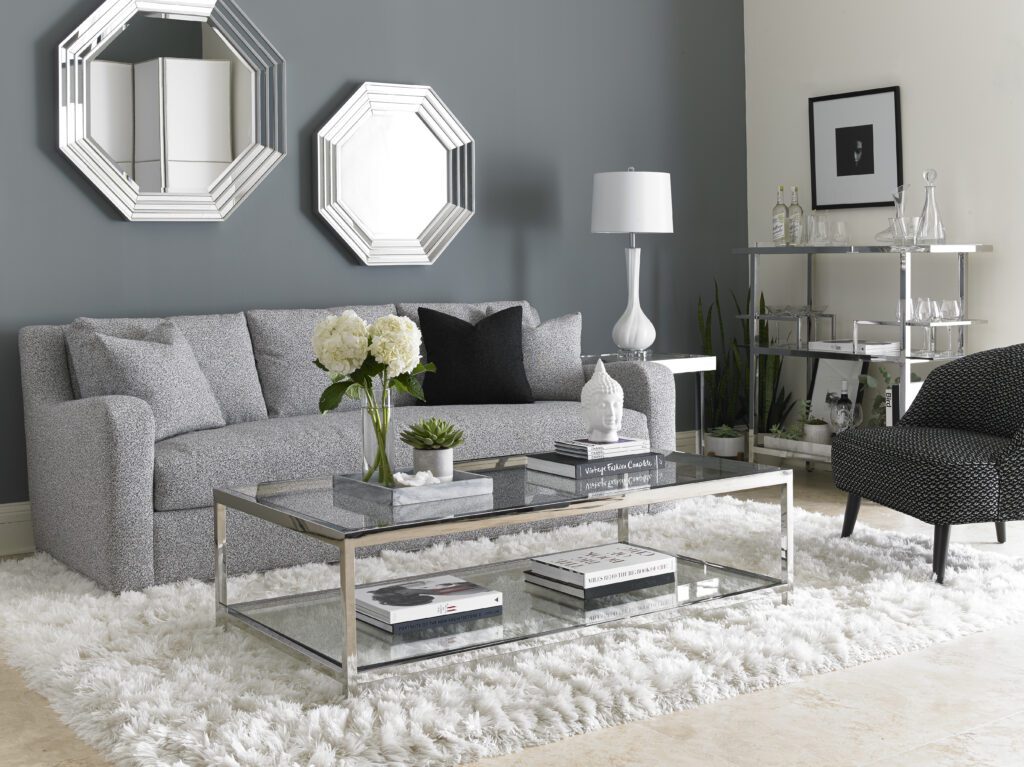 Flooring
If you have the opportunity to choose the flooring in your dark space, select a light-reflecting floor. If you want wood floors, pick a light-colored wood so it doesn't add to the room's darkness. However, if you are stuck with dark floors, you can use a large, light-colored area rug to lighten up your floors. Colorful rugs are a great way to add a pop of sunshine and brighten up a dark room.
Furniture
Furniture can go a long way in helping or hindering your quest for a brighter room. Choose streamlined, low to the ground, or "see-through" furniture. Let natural light into a space with open shelving and no clutter. Leaving space beneath your furniture, painting wood furniture white, or choosing a pale-colored couch or bedding will aid in lightening up a dark space.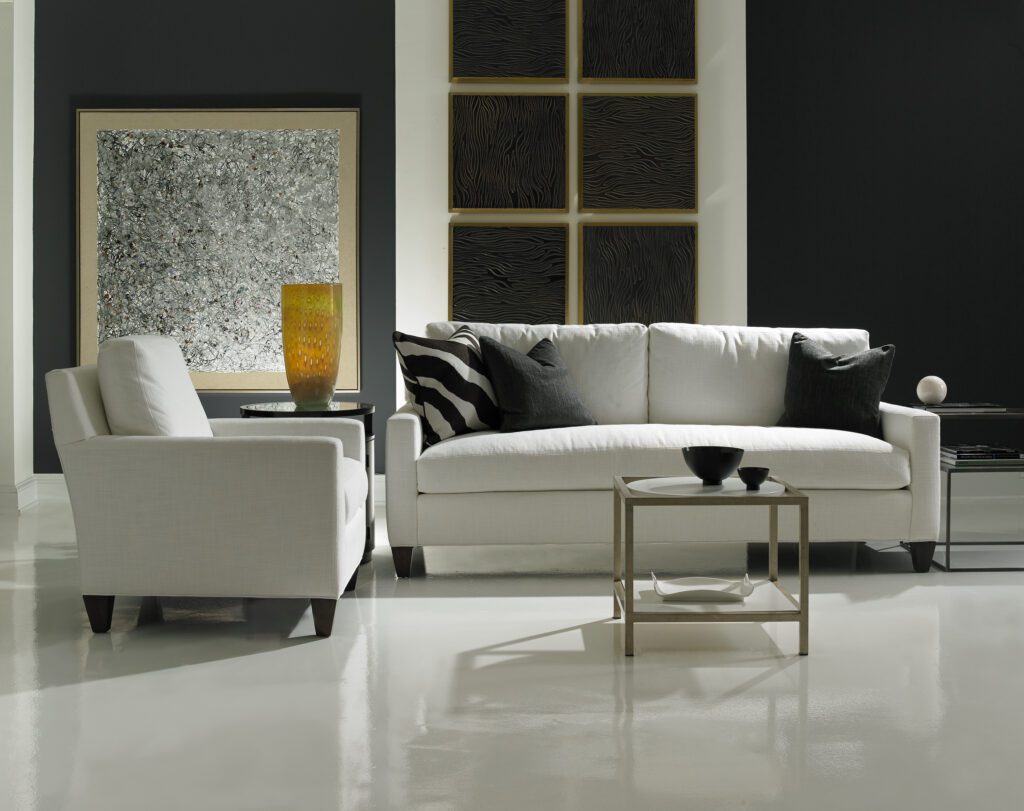 Layout
The layout of your furniture has a significant impact on the feel and brightness of a room. Placing bookshelves perpendicular to a windowed wall, for example, allows the light to move along the shelves rather than hiding them in shadows, creating a brighter feel to a room.
Maximize the space near your windows. Place light-reflecting furniture by windows to move the natural light around the room. Some homes use interior glass French doors to share the light from one room to the other.
Artwork
Artwork is another thing that can either add light to a room or take it away. Just like with wall color, a dark painting can absorb the light in a room, while a light painting can help reflect it around the room. Overdoing the amount of artwork in a room can also make it seem darker. Save your dark artwork for rooms with better lighting. Check out our post on choosing wall art for your space.
Plants
Adding plants to your home comes with many incredible benefits, one of which is that they help reflect light in a room. Place your plants near windows and watch as their beauty brings your room to life.
Light has the power to heighten our emotions, making us feel happier and energized. It can also improve our mental health. While dim lighting can contribute to depression, vitamin D deficiencies, overeating, abnormal circadian rhythms, and productivity problems. Don't fall victim to a dark room and its effects on your health. Open up the shades, paint the walls, add some lights, find the right furniture, and create a lighter, more enjoyable room.
If you need assistance, contact or visit Albarado's Fine Furnishings, a home furniture store in Lafayette, LA. We are here to help you create your dream home. Enjoy a complimentary interior design consultation performed by one of our in-store design experts. We can help you with everything from choosing a paint color to selecting furniture or accessories. Check out what our customer, Mary Ann Simpson, has to say about our design services! We're always happy to assist our customers. Only at Albarado's.