One of your home's most significant and most used investments is probably your sofa. The U.S. Bureau of Labor Statistics reported that the average American spends 20 hours a week watching television. That's like having a part-time job watching tv, easily awarding America the title of "Couch Potato Nation." Unfortunately, all that time watching television has probably taken a toll on your beautiful sofa upholstery.
You put a lot of time and money into finding the perfect sofa. So, it makes sense to spend a bit of extra energy maintaining your sofa upholstery will keep it beautiful and increase its lifespan. Use the step-by-step guide below to bring your sofa upholstery back to life.
Check Furniture Cleaning Codes
Checking the care tag attached to your couch would be the first thing you want to do. It helps you determine the best and safest cleaning products and methods for your upholstered furniture.
W – Only water-based cleaners should be used.
W/S – Use water- or solvent-based cleaners. Use water on water-based spills and solvent on oil-based spills.
S – Use solvent-based cleaners only, such as dry-cleaning solutions or mild detergents that contain no water.
X – Vacuum only. Don't use any cleaners. Consider calling a professional.
Cleaning the Different Sofa Upholstery Materials
Cleaning a Fabric or Microfiber Sofa
Check the cleaning code.
Vacuum couch with an upholstery attachment. (Vacuum the entire sofa: front, back, sides, cushions top, and bottom.)
Steam the couch. (Don't skip the first vacuum, or the steam can turn excess dust or dirt into mud.)
Vacuum the couch again.
Test an appropriate cleaner on a hidden area first, then apply it to the rest of the couch.
Spot clean stains.
Sanitize the couch.
Let couch air dry.
*For a quicker clean, skip steps three and four.
Cleaning a Leather Sofa
Check the cleaning code.
Vacuum the couch. Use attachments to get into the crevices.
Wipe the upholstery.
Test leather cleaner on a hidden area. If it's okay, apply it to the rest of the sofa.
Use a damp cloth to remove excess cleaner.
Use a leather conditioner.

Getting Rid of Smells
Sprinkle baking soda all over the sofa and let it sit for 30 minutes, then vacuum it up. Or, you can try an odor-eliminating spray to remove smells from upholstery.
Removing Stains from Sofa Upholstery
Fabric Stain Removal
A white vinegar solution effectively removes tough stains and is safe to use on most fabrics. If natural cleaning is important to you, this is the way to go. Make the white vinegar solution by mixing 1 cup of warm water, 1 cup of vinegar, and an optional: 1 teaspoon of dish soap.
Always check the cleaning code when using a detergent solution to clean your sofa upholstery. You can buy special upholstery detergents or use a mild hand washing soap. Make the detergent solution by mixing 2 cups of water and one teaspoon of detergent. Clean excess detergent off with water after the stain is gone, then use a dry towel to soak up excess moisture.
A few tips when removing stains from sofa upholstery:
Don't saturate the stain.
Don't scrub the stain; you could spread it out further.
Blot the stain until it comes off.
Never saturate your sofa with water.
Microfiber Stain Removal
Water easily stains microfiber materials. The best way to remove stains from microfiber is to use rubbing alcohol. Apply it with a spray bottle and use a clean, dry cloth to remove the stain as it loosens.
Leather Stain Removal
Leather cannot be spot cleaned, or you will have watermarks. To avoid this, you have to get the entire area damp seam to seam so it can dry uniformly. Below is how you can clean several types of stains out of leather.
Water spots – Wipe the entire area seam to seam and allow to dry.
Pet urine – Natures Miracle is effective at removing urine stains. Most pet stores carry it.
Ink stains – Ink remover sticks effectively remove or reduce ink stains on leather.
Oil or Food Grease – You must treat grease stains immediately with corn starch. Using your fingers, briskly rub the corn starch into the stain until the heat from the friction is felt. Then, vacuum the powder off and repeat until the stain is gone.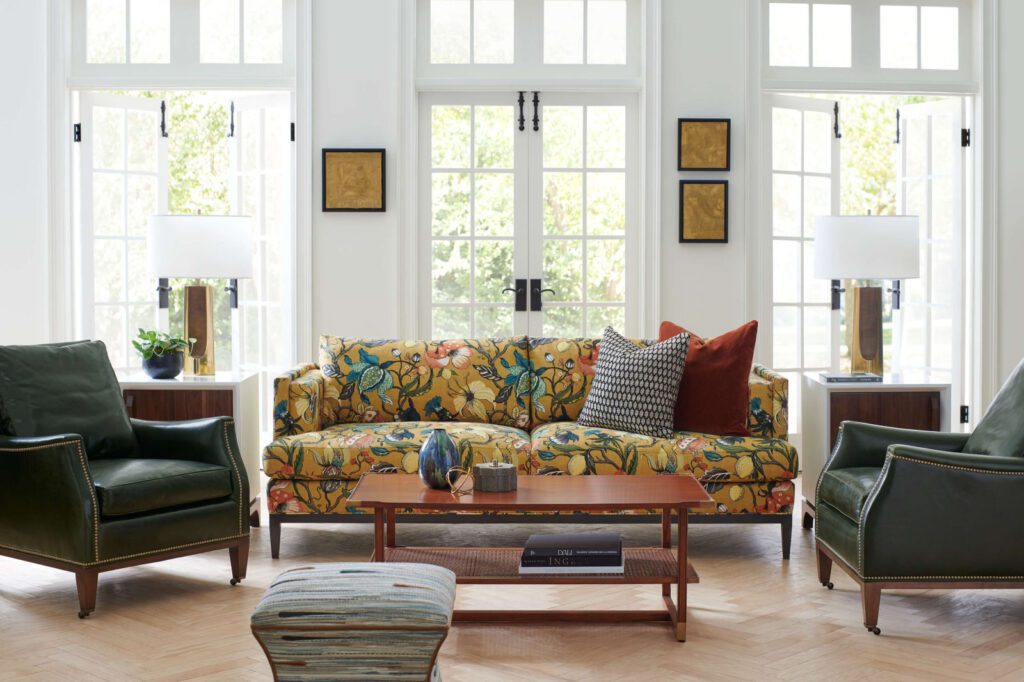 Cleaning Your Sofa Upholstery Without Water
Baking soda works wonders on smells and also on stains too. If a stain is still wet, apply baking soda, wait for it to dry, and then vacuum it up. If the stain is dry, sprinkle the baking soda, let it sit for 30 minutes, and then vacuum it up.
You can also use pretreated dry-cleaning cloths to clean stains off of your upholstery. But, again, follow the instructions on the package.
Extra tips and tricks
Don't scrub. Blot out liquid spills.
Don't use hot steam on upholstery materials that contain silk.
Don't use plain water to clean microfiber surfaces.
Use the right vacuum attachments. Many vacuums have an airflow upholstery attachment.
Use caution when applying fabric protectors.
Avoid fabric softeners.
Always line dry your washed upholstery.
Rotate cushions
We spend a lot of time enjoying our sofas. You can help them last longer by cleaning them every six months. You will maximize the value of your investment, but you will also add to your family's well-being.
In 2013, microbiologists found that the average sofa upholstery has about 12 times more germs than the average toilet. So, keep your family healthy and clean it.
However, if your couch has seen better days and you're not able to revive it with a good spring-cleaning attempt, contact us at Albarado's Fine Furnishings. We carry an array of quality brands for your sofa and other furniture needs in Lafayette, LA. Our team will help you find the perfect sofa for your home, only at Albarado's.